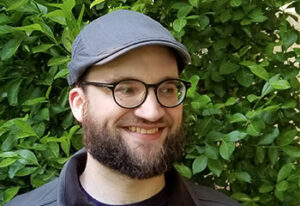 What do you do at Atrium?
I'm a Machine Learning Engineer by title; however, like all Atrians, my primary role is learning and adapting. The innovations in AI and ML and their application for business uses are a continuously and quickly evolving space. Industry vigilance, intellectual curiosity, and personal challenge drive the entire team, myself included. I also periodically (and accidentally) eat half of people's lunches at company meetings.
Can you give us a little of your professional background?
My professional background has had a few turns since managing a comic book shop in college. My degree is in computer technology which "logically" means I took a job in payroll and accounting for a logistics company after college. I eventually discovered an interest and opportunity to do a bit of financial analysis while there. After five years in logistics (oh, the stories I could tell), I transitioned to payroll and accounting in the cloud technology consulting space before my path once again gravitated toward financial analysis and I eventually made the move to FP&A proper with a strong focus on sales and marketing. A few years later, I made yet another transition – this time into sales operations. Most of us don't know "what we want to be when we grow up". Luckily for me I finally noticed the common thread connecting my roles, professional interests, and passion: working with data to uncover meaningful information, tell a story, and ultimately provide answers and recommendations to business partners that influence company decisions and actions. It may have taken me 10 years to realize the connection but better late than never, right? And here I am, diving into the deep end of data science and machine learning.
Why you decided to join Atrium?
It was mostly (finally) realizing my passion for data. Atrium provided a great opportunity to get into the space while at the same time learning along the way. I've been fortunate to have wonderful opportunities to professionally develop as I progress in my career; with each role increasing in velocity. Working at Atrium will be an exponential increase along that curve… The other big pull was the team: my trust in the leadership, the staggering expertise to learn from, and (most importantly) the culture. Lastly, I believe in what Atrium is doing and the services we provide. There's a real tangible effect on motivation and excitement when that happens.
What excites you most about the ML/AI Space?
It's the next technological renaissance; especially for business applications. There's so much unknown and unforeseen in the space at this point. As a result, a really fertile soil for creativity has been generated. The space isn't driven by deploying static and prescribed solutions… the AI/ML space, at its core, is really driven by innovation and discovery at this point. That's really exciting.
Give us one interesting nugget about yourself that we might not know.
I really like doing home decor and creating custom decor items. I shouldn't get as giddy as I do when walking into craft and hardware stores.
Favorite pastime?
I really enjoy experimenting making new mixed drinks for myself, my wife, and guests. We have a pretty serious home bar I named "The Inbibrary" on account of my wife being a librarian and the ludicrous amount of books in our house that comes with that. Stop by if you're in the area!
How did you get the name Fuzzy bear?
Geoff Birnes started calling me that and I have no idea why. Yeah, I'm honestly not sure (intently strokes stupid hipster beard while thinking). I guess I do have a predilection for pilfering a few Atrian's lunchtime pic-a-nic baskets.