Looking back over the last few weeks we all can relate to how quickly the events of COVID-19 have put us in a space where we have had to deal with disruptions to significant life experiences. Whether it was an everyday change, or missing major milestones like graduations, or the most tragic scenario of not being able to say goodbye to loved ones — our world changed at warp speed. The same can be said about an economic recovery that, despite all our best intentions, will not reflect the comfort of doing business as usual. We all know this, but now what are the first few productive steps we can take immediately to get us moving forward?
It's important to consider immediate next steps through a vantage point offered by Gartner to the tech CEO community a couple of weeks ago. Consider this first image providing some historical context for us on our path forward: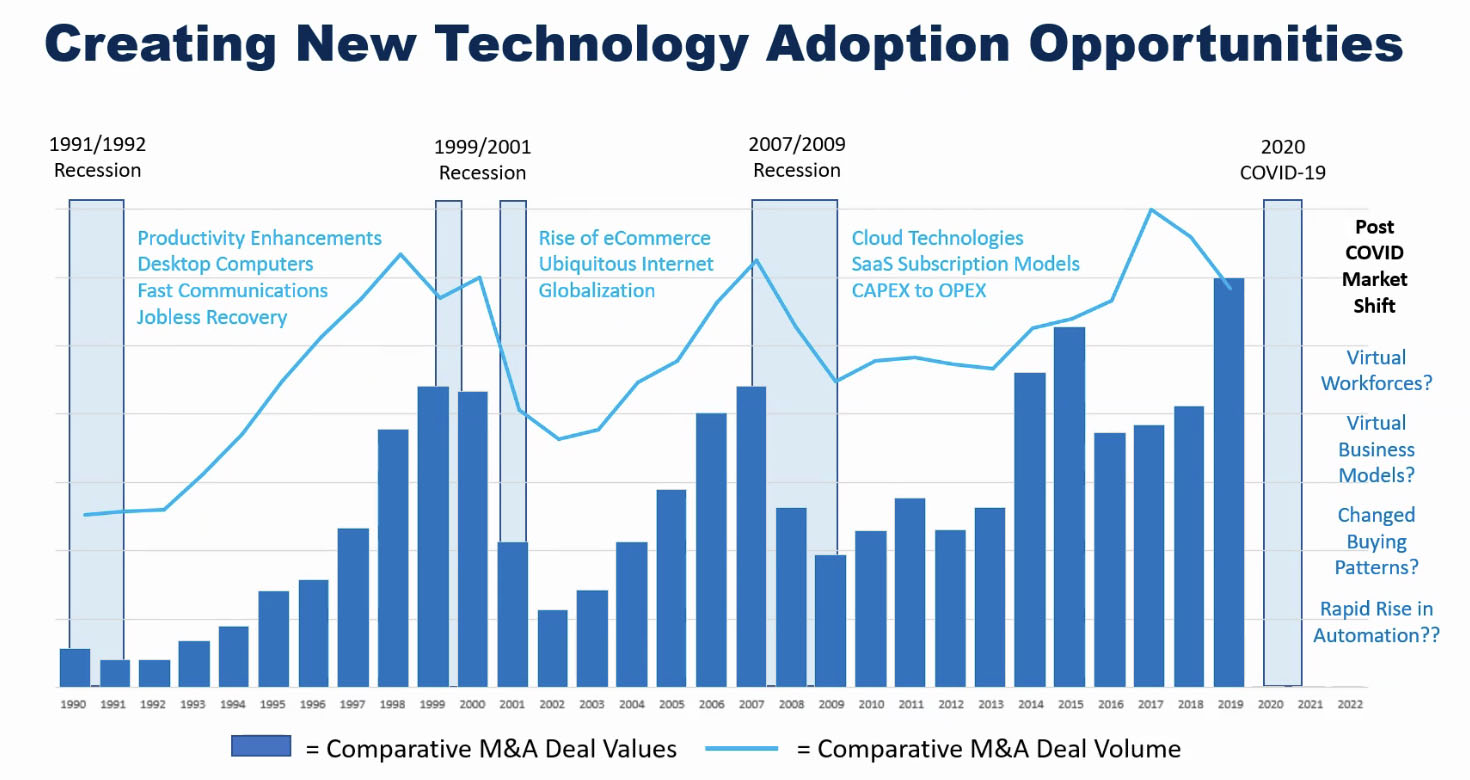 The big takeaways? The pain and disruption of business cycles create innovation opportunities on a large scale. Zoom out even further in history and you will find a direct connection between times of distress and rapid innovation. That will happen with COVID-19 as well.
As Gartner captures above, each major cycle over the last 30 years brought significant productivity growth and innovation whether that relates to the movement to Client-Server in the 90s, broad availability of the internet in the 2000s, or the emergence of cloud computing after 2008. What will those innovation themes look like with COVID-19 over the short and medium-term? Many answers are already in front of us. As our team has observed our customer base, we are already seeing Gartner's themes play out over a compressed timeline related to remote working environments, business models virtualizing, and customer demand patterns shifting. It's a lot to process and that can lead to paralysis.
How to Fight Digital Transformation Paralysis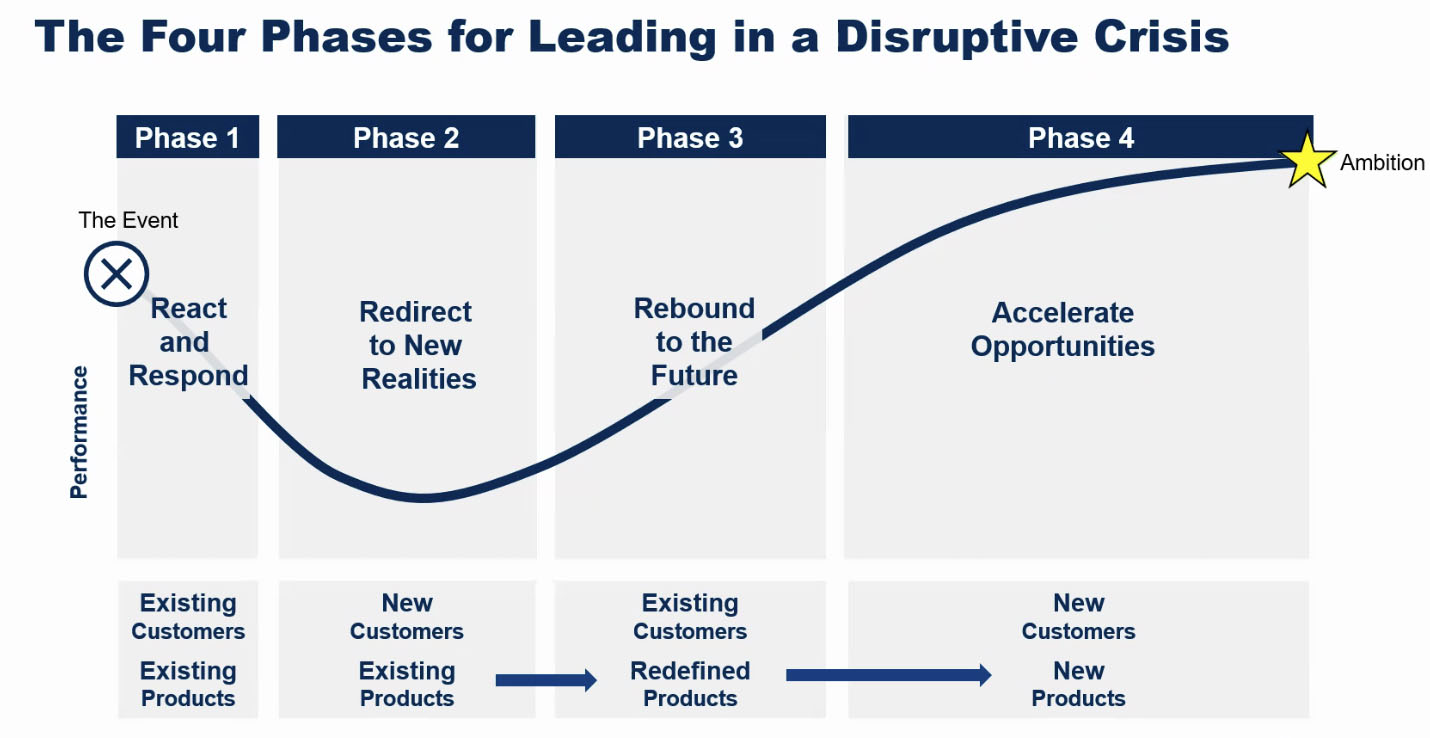 Several thought leaders are starting to map out the journey business leaders will experience and how we should think through the phases of evolution and adaptation over the next several months.
The overwhelming majority of companies have spent the last several weeks in Phase 1. This phase represents our reality as we all looked to react to our rapidly changing environment with the goal of just getting to tomorrow. The rationale response was to implement health protection policies, get people working remotely, conserve cash, and buy as much time as we could to see what was around the next corner. The bigger question for all of us is: how long are we going to stay in Phase 1?
There is a fork in the road for all business leaders, and the good news is that we all have a strong degree of control in choosing our path. Some companies will be stuck looking to protect old ways of doing business while they put defensive measures in place to buy time. The last several traumatic financial shocks tell us that those companies who look to purely play defense and maintain the status quo will not survive to see the other end of this cycle. It is about moving to Phase 2, taking small steps one day at a time, and refining your business model based on the new realities. How should you think about this without becoming overwhelmed?
Step 1: Rerack Your Analytics
As we listened to our customers over the last several weeks, one pattern that has consistently emerged is the need for better clarity with respect to their post-COVID-19 environment. On every call that we join with our customers, we learn nuances to their businesses based on COVID-19 that none of us anticipated. We ask our customers where they are on the pain scale (0-10) as it relates to disruptions in their business, and the reality is that their answers range dramatically even within the same company.
Our customers have multi-faceted businesses and their experiences from division to division can range from "total shutdown" to "cut in half" to "relatively stable," all under the same company umbrella. Trying to understand the broad picture in a fluid environment can be debilitating. The aggregate pictures are almost all noise and complicated to the point of feeling unsolvable, even to the most action-oriented leadership. We have found a universal need for companies to do a department level "reracking" of their analytics based on statistically significant data sets emerging over the last 4-6 weeks.
More clarity is achievable. Now it is about taking the time to dig in. Which attributes of demand for your products and services changed over the last few weeks? What historical patterns and areas have been least impacted and why?
Understand the Insights with the Power to Move You Forward
Most companies have extensive investments in business intelligence solutions and can "rerack" their analytics without a significant investment in new technology. It's a matter of taking the time and focus away from the chaos of day-to-day survival mode to understand the new insight that can move your company forward. Redeploy your sales coverage to different industry verticals? Transition marketing spend to digital format? Start servicing parts you don't manufacture? Develop different distribution channels for specific products, given new world use cases (e.g., food service, PPE supply chain providers)?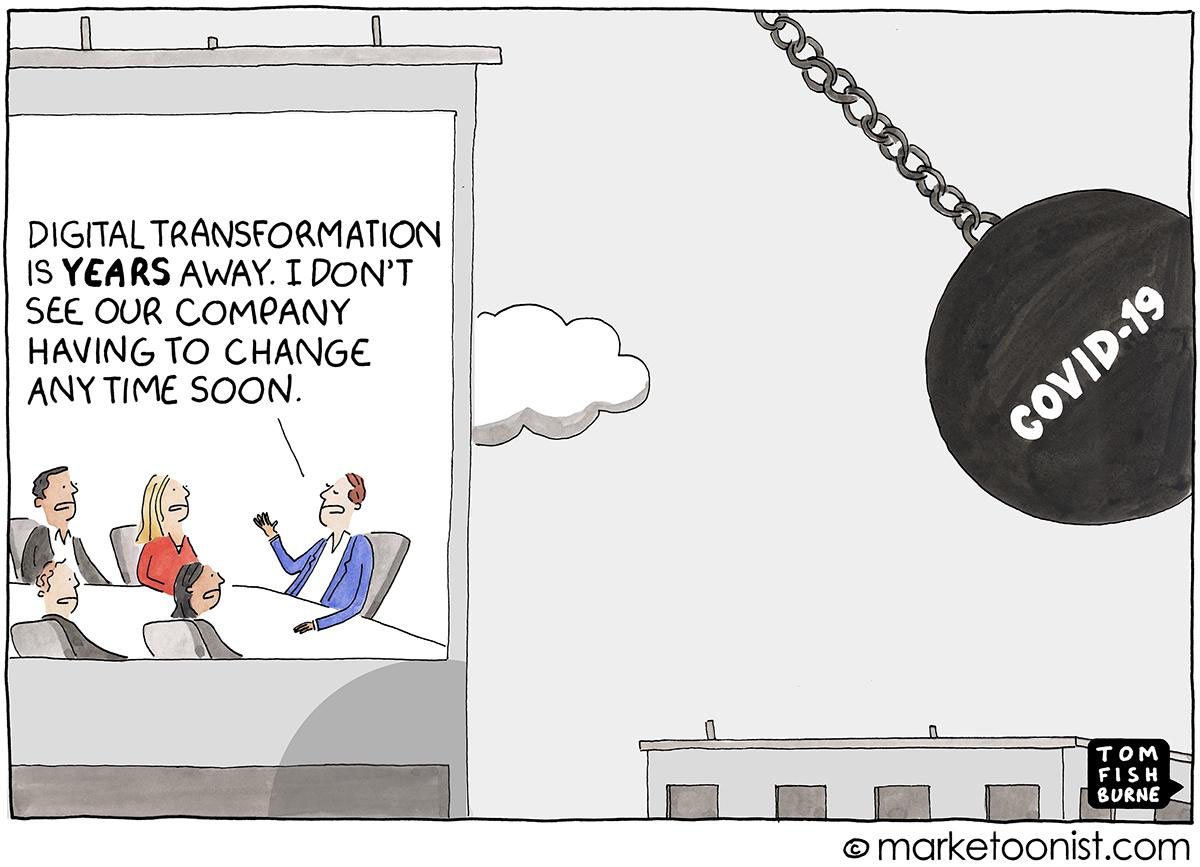 All are potential insights that can be gleaned from understanding changing buying patterns over the last few weeks. Chances are that with the right focus and commitment, you will be one of the first to process new realities, as your competition is either distracted with self preservation or has too much invested in the status quo to have incentives to change.
Step 2: Focus On Quick Wins with Rapid Iteration
Our team at Atrium has expertise in helping companies through multi-year business transformation investments. These are typically long-run bets that require significant coordination across diverse functions, consensus building, and stable patterns supported by executive sponsorship. But that does not match our current reality.
One of our first realizations from the fallout of COVID-19 was the recognition that multi-year business transformation programs are not tenable — for the time being. Rather than focus on the big picture, the mantra for getting back to business should be to view diverse businesses as discrete elements and foster decentralized/grassroots responses. During our customer briefings, we are finding that there are consistently quick win opportunities for small scale innovations — involving adjustments to service offerings, customer outreach, and standard work protocols. Many business leaders are placing the impossible expectations on themselves to anticipate 2nd- and 3rd-level effects from COVID-19 to their markets. In a COVID-19 environment, never before has it been more true that fast action with rapid iteration overpowers the "perfect" plan.
What's Next?
We see our charter as helping companies take their first steps out of digital transformation paralysis and into action. A good approach is to organize small teams that can deconstruct broad solution areas into a series of quick win options that can be evaluated across two variables: speed of implementation vs. business value, with an emphasis on the former. Using small teams to ideate quick win opportunity areas based on a firm's ability to have total control over a process area should rise to the top. Create a matrix of discrete opportunities like the below illustration: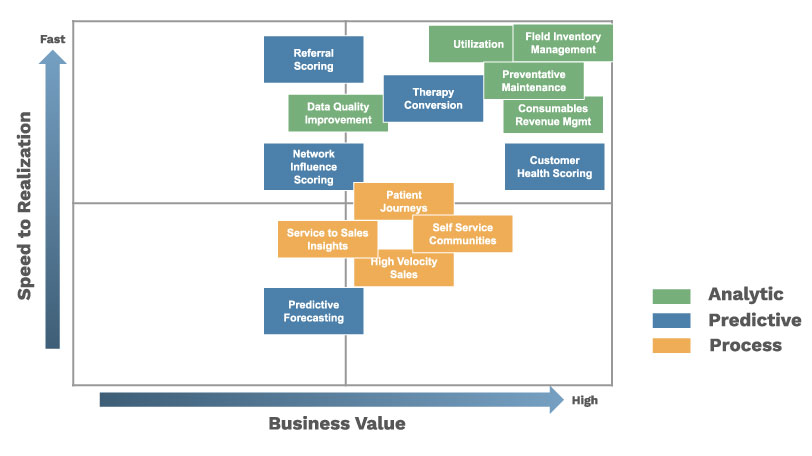 All divisions should be able to evaluate 5-10 options across a similar framework, one that identifies ways to address the quick win opportunities through process improvements, better analytics, or augmented predictive capabilities based on new data patterns.
We Can Help You Be Proactive About Digital Transformation Now
The more we dig in, the more inspired we are by the possibilities. I hope the business community will embrace the need to rerack their analytics, along with forming grassroots initiatives that deliver quick and iterative change in a fluid environment. Let's not spend too much time simply reacting and hunkering down, and get on with the business of putting one foot forward each day on our way to the next great business cycle.
Learn more about the services we offer to help your business adapt to change and thrive.