The year 2020 was the start of, what many in the industry are calling, the "Decade of Data". If you haven't heard this phrase before, perhaps you have heard the saying on the street "data is the new oil" or "data is the new soil".
To no surprise, the amount of data being generated just in our lifetime has skyrocketed and is continuing to grow at an exponential rate. More specifically, "from 2020 to 2025, IDC forecasts new data creation to grow at a compound annual growth rate (CAGR) of 23%, resulting in approximately 175ZB of data creation by 2025."
Many experts to believe that this "wave" will completely reshape the way businesses operate over the next ten years. Not only will the Decade of Data reshape the way business leaders think about their data, but it will force those leaders to adopt new technologies that can (and will) act as a necessity for becoming a market leader.
The Demand for AI and Analytics
The demand for AI and Analytics is no different, and has grown in parallel alongside the vast amount of data being generated. According to the IDC, Global Spending on Big Data and Analytics solutions surpassed $215 Billion in spending during 2021, an increase of 10% from 2020. The dramatic increase year over year in spending has generated $29 Trillion in Business Value (2021) and 6.2 Billion hours of worker productivity hours gained. And these numbers aren't stopping anytime soon. The compound annual growth rate for global Big Data and Analytics spending over the 2022-2025 forecast period will be 12.8% each year.
With any major change or shift comes its own challenges. Despite the overwhelming demand, 70% of companies lack a defined data strategy and a data driven culture.  In fact, 58% of companies admit that they are not competing at all when it comes to Analytics and Data. And of those companies who are trying to compete, 92% of them point their finger at internal people and processes (opposed to the technology) as the sole reason for failure to execute.
Financial Services is Shifting its Focus
Two plus years into this new decade, we are starting to see which industries are taking that step toward a new Data Strategy and which are allocating a significant chunk of their yearly budget towards a Digital Transformation. One of these industries that sticks out over others is Financial Services.
Historically, large Financial Services Institutions have been reluctant to change and overall adoption of new technology. Many of the systems that exist inside these institutions are legacy systems that are rarely optimized for data-driven or AI capabilities. However, we are seeing a change in that behavior, a change that will revolutionize how financial organizations do business moving forward.  The "IDC predicts that the financial services industry will be second only to retail when it comes to spending on AI between 2021 and 2025, accounting for nearly 14% of the $204 billion that will be spent annually by the end of that period.
3 Ways Financial Services Firms Compete with AI and Analytics Technologies
Enough with the numbers and statistics. How are we seeing our Financial Services clients actually compete with these technologies?
There are a few common use cases across Atrium's Financial Services client base – whether you are a bank, insurance provider, or wealth management firm. The examples below dive into a few of the more common ways our Financial Services clients are gaining a competitive advantage through the use of Einstein Discovery in Tableau. For a deeper look into the examples below, watch the demo here.
1. Book of Business Insights 

Executives are utilizing AI and Analytics to score leads and gain valuable insight into their team's performance.  As a Manager, how is my overall book of business looking?  Which of my customers will require my attention over others this quarter?  Which Accounts are at risk and what $ volume do they provide? Who of my Regional Directors is performing best, and better yet – how do I emulate that success across the rest of my team?
These are a few questions Client Engagement teams may ask in order to identify bottlenecks early on or simply gain transparency into their book of business, with the overall goal of better serving their customers across different regions of the Country.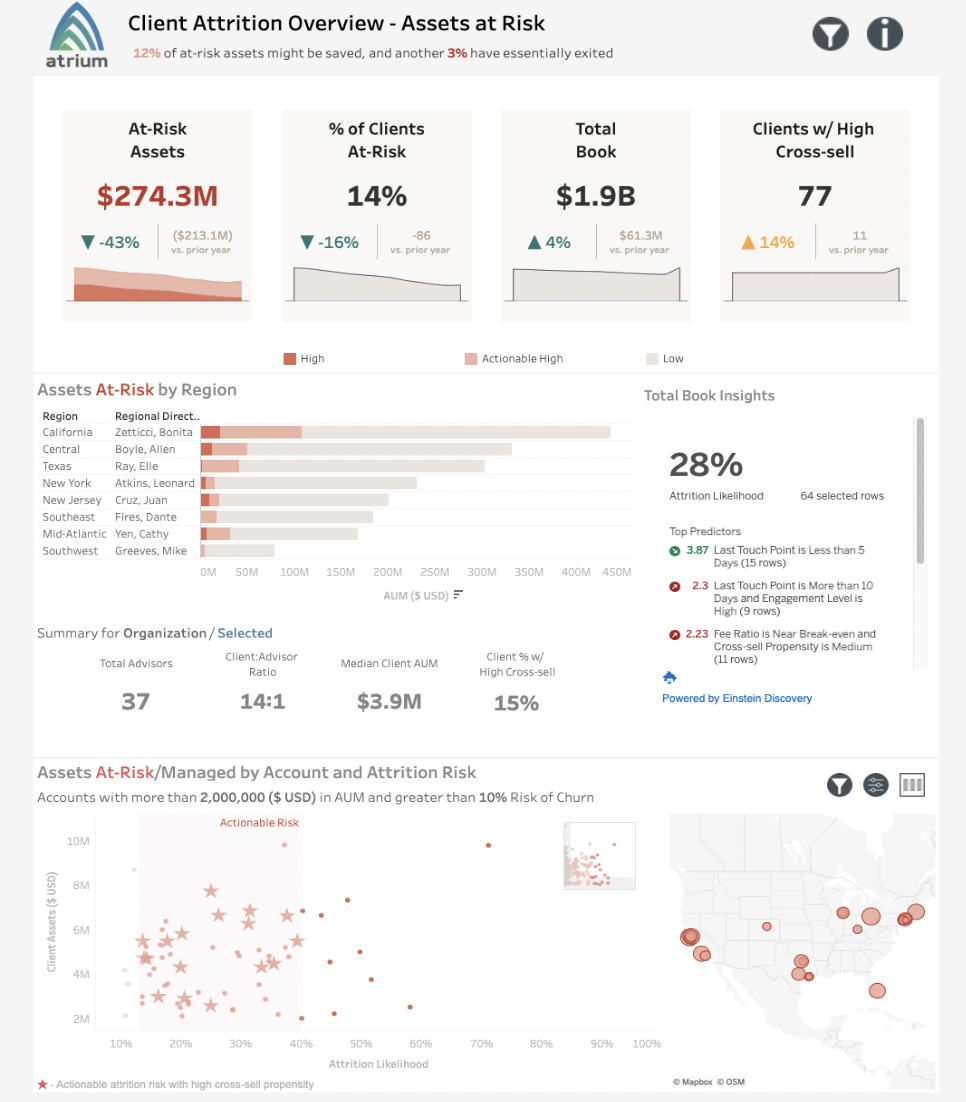 2. Attrition Risk and Engagement

A challenge that many Financial Organizations face today is knowing when and how to retain their High and Ultra High Net Worth clients, or any other client critical to the success of the organization. In order to prevent customer churn, it is necessary to personalize the customer experience.  What are some early indicators of potential attrition across our customer base? What opportunities do we need to re-engage with? Can we specify retention options based on a customer profile (AUM, Age, Investment History, etc)?
If identified early on, perhaps there is a campaign we can run in order to re-engage with a client's needs or prompt a discussion about a different product or service that may better suit their needs. "A report  from Forrrester says that a single point in a Financial Services Organizations Customer Success score can improve revenues from $5m-123m.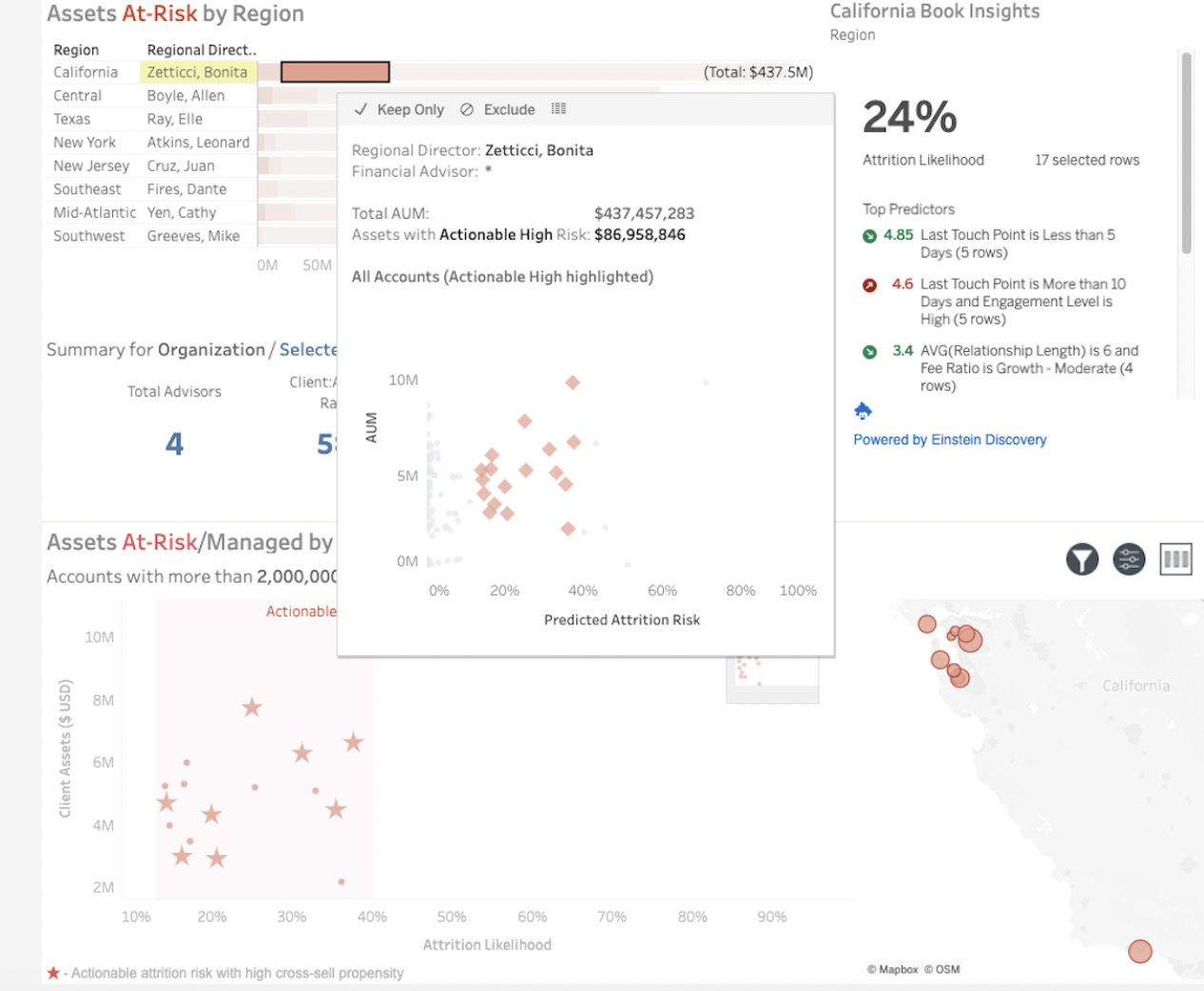 3. Grow Wallet Share 

Tying the two ideas above together, Financial Services organizations may use these derived customer insights to expand existing wallet share. What is a customer's cross-sell propensity as it relates to risk? Where are my product whitespace opportunities? Perhaps we can lower that customers attrition risk by offering them a product that will better fit their business needs.  The transparency into customer behavior may lead to an increased retention rate due to the new range of products being used by a single customer.

As we move further into the Decade of Data, it is crucial for organizations to understand the importance of defining a Data Strategy in order to remain competitive in the market. Financial Services is one of only a handful of industries adopting Analytics and AI technologies, ultimately relying on predictive insights to reframe how to best serve their clients.
Learn more about how your organization can adopt and apply this strategy, and what other use cases exist in your industry.