Traditional B2B purchases can be quite a hassle. You might need to speak with a dedicated salesperson or account manager, and there can be a lot of hurdles and hoops to jump through. If you're looking to get started with selling in the B2B space, getting the logistics in place can be cumbersome.
Salesforce B2B Commerce helps companies get set up quickly and easily, and it provides your customers with a seamless, self-serve experience for purchasing what they need. It takes a "cloud first" approach, and tailors your website to the specific needs of your industry.
Buyers need to log in when they visit your site, which allows Salesforce to personalize the storefront for each specific visitor. They can quickly reorder previous purchases, which is especially helpful when recurring orders are common, such as in the medical industry where supplies need to be restocked regularly. Any negotiated prices are visible to the customer as well, and buyers can also use shipping groups to send items to multiple locations on different dates.
Short on customer service reps? No problem! Salesforce B2B Commerce will set you up with a chatbot that can handle the majority of questions that your customers raise. And since it's built on Salesforce, account managers and service agents can see commerce, CRM, service, and marketing data all in one place — across the business or at the contact level.
Setting up and managing your store is simple. Just follow a guided setup process to get started quickly. It's easy to manage the store and make changes with drag-and-drop components designed for commerce, so you can implement in weeks and innovate fast to meet the changing needs of your customers.
Lightning v/s Visualforce B2B
Salesforce entered the B2B e-commerce world in 2018 with its acquisition of CloudCraze, a SaaS 'B2B Commerce' managed package application designed, built, and maintained on the Salesforce platform. 
This platform was reworked to become "Salesforce B2B Commerce Classic", also known as Visualforce B2B. Salesforce spun up a newer, modern version known as "Salesforce B2B Commerce Lightning Experience". When you get started with selling online, you'll need to decide which one to use.
Create a storefront with a set of Visualforce pages and components, installed from a managed package and integrated with your Experience Cloud site. Admins can manage storefront metadata, product catalogs, and certain buyer-facing features from a set of custom objects and custom settings. You can configure the default options to suit simple or complex B2B use cases. Because the storefront is built on Visualforce, developers can extend or override the default functionality throughout the application and fine-tune storefront behavior.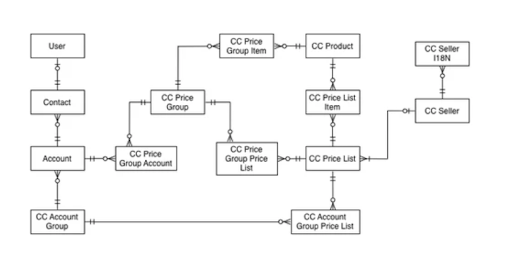 Create a store using the B2B Commerce template for Experience Builder. With B2B Commerce built directly on the Salesforce platform, admins can use Lightning Experience functionality to define buyer experiences, including search, carts, checkouts, and more. Admins and managers can import commerce data for accounts, products, price books, and entitlements using Data Loader or Data Import Wizard. They can also create, set up, and localize stores. Buyer managers can manage other buyer accounts. Store managers can update products and verify their store's settings from the Commerce app.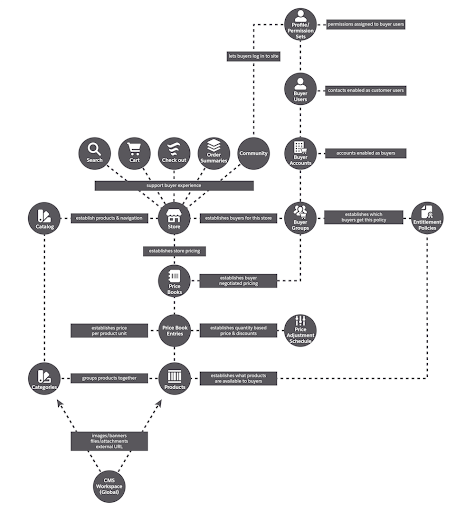 Key benefits of using Salesforce B2B
1. Scalability
An effective e-commerce platform will enable your organization to grow and scale easily to meet market demand and customer needs by opening new sales channels and continuously reaching new market segments.
2. Improved efficiency and productivity
Through integration to the enterprise resource planning (ERP) and other back-end business systems, e-commerce provides marked efficiencies for B2B organizations. Since customers can order online, businesses can focus on the actual customer service functions rather than simply being order takers. 
3. More Customers
A B2B e-commerce site with public-facing catalog pages is a powerful tool to reach new customers. Your future buyers not only prefer to shop online, but will demand it. As B2B buyers head online to compare products and find the best prices, manufacturers and distributors can leverage the power of search engines to connect with them. By developing a responsive website with rich, SEO-friendly content, you can locate new visitors and convert them into customers.
4. Improved Brand Awareness
This kind of platform provides your business with an online presence, thus giving you control over your brand. It allows you to promote, grow, and strengthen your brand both locally and internationally. 
Although other external B2B market channels may generate additional brand awareness benefits, your branded e-commerce website is the main marketing tool for a sustained online presence and visibility.
5. Increased Sales
Not only will an online store help you reach new customers, it also will allow you to easily implement an automated cross-sell and upsell recommendation program. With this, you can increase sales by offering relevant suggestions to customers on the site and encouraging them to purchase related items, or items with more features and functionalities.
6. Analytics capability
B2B e-commerce provides a perfect platform for organizations to launch comprehensive analytics campaigns. Organizations can easily measure and evaluate marketing campaigns, sales effectiveness, product mix, inventory turns, customer sales effectiveness and customer engagement. Google Analytics offers e-commerce tracking, but integrating analytics with your ERP as well gives you much more valuable data with actionable insights. 
Uniquely personalized customer experience
E-commerce is an enormous market that's growing quickly worldwide. Consumers and businesses now demand a connected, online buying experience that meets their needs whether they are making large or small purchases. Salesforce B2B Commerce, with its powerful CRM, helps businesses harness their true potential.Its mobile-friendly design, AI-enabled CRM, AI-guided search results, and product recommendations ensure a uniquely personalized customer experience. Don't just take our word for it, you can check out a demo here if you'd like to learn more!
Subscribe to our blog for more technical information and industry news.