I often joke that my wife and I have very heavy hobbies. Literally. In addition to us both being avid readers (aka book hoarders), I've spent the past decade building a full bar in our basement. In honor of our combined interests, we named our underground bar "The Imbibrary."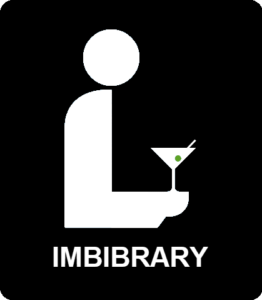 The difference between making a mediocre cocktail and a fantastic cocktail comes down to a very delicate balance of exact flavors. Having a pretty serious home bar allows me to explore a lot of different taste combinations. Over the course of a few years — and more than a few horrifically nonpotable creations poured down the drain — the cocktails coming out of The Imbibrary are getting closer to the ideal intersection of creativity and flavor.
You may be thinking at this point, "Okay, but what the heck do cocktails and home bars have to do with an AI/machine learning and business intelligence (BI)-fueled consulting company?" Atrium is a provider of intelligent experience solutions for our clients — not some nature-themed nightclub.
An Intelligent Experience is Not Unlike an Expertly Crafted Cocktail
CRM and data are the base ingredients but only permit limited and unvaried blends when combined alone. Pouring in AI/BI-driven insights complements the data in bold and unique ways. Stirring in leading AI and BI process integration capabilities enhance the core tones of the CRM. Finally, adding business strategy and industry expertise both unifies and balances the overall combination.
Atrium is the aproned, expert mixologist behind the bar; adeptly combining those top-shelf ingredients that result in a perfectly balanced intelligent experience cocktail. Want to spend more time sipping drinks and less time making the most of AI and BI in your business? Want no longer: reach out to Atrium, your intelligent experience mixologist, today!
And what's even better than mixed drink metaphors? Mixed drinks! Enjoy the following AI-themed recipes.
The Confusion Matrix

Application: A pine-infused drink that's great for sipping on a fall day after a hike.
Raw Data
2.5 oz aquavit (Vikre Øvrevann recommended for the natural pine flavor)
1 oz black raspberry liqueur
0.5 oz pine liqueur
0.5 oz pine dram
1 handful of fresh blueberries
Algorithm
Muddle the blueberries in your shaker
Add a handful of ice
Pour in liquid ingredients
Shake!
Double-strain contents into your glass
Model Output
Garnish with blueberries and pine sprigs
Add a few sprays of Alice & the Magician's "Hiking the Long Trail" cocktail spray. This sounds pretentious, but smell is a major part of taste. This spray lingers on the rim of the glass and, for a short period of time, as a vapor within the bowl of the drink.
A coupe glass is recommended for serving
The Intercept

Application: The perfect quick and easy drink for lazy spring days sitting on the patio and listening to the wind in the trees.
Raw Data
4 oz sake (any decent variety of Ginjo sake works)
1 oz Cointreau
1 oz yuzu liqueur (I use Yuzuri… mostly because I don't know of any other Yuzu liqueurs!)
Algorithm
Add a good handful of ice to your serving glass
Pour liquid ingredients directly into the serving glass
Give a very short and gentle stir
Model Output
Sprinkle some dried rose and marigold petals for garnish
Add two swizzle straws
Area Under the Rim

Application: The flavor of sweet potato pie that's not fit for the kid's table!
Raw Data
1 oz rum
2 oz sweet potato liqueur (yes, there is such a thing — made by a company called Corbin Cash!)
1 oz Spiced Jägermeister
0.5 oz toasted marshmallow syrup (Monin makes a wide variety of pretty decently flavored syrups)
Few splashes of El Guapo "Holiday Pie" bitters (made with pumpkin, pecan, apple and sweet potato)
Nutmeg (whole)
Mini marshmallows
Algorithm
Add liquid ingredients into a tall, narrow glass container; a highball or collins glass works well
Use a microplane to add a small amount of nutmeg to the glass (a microplane is vital because we want the shavings to be very small)
Give a quick stir
Pour warm water into a pot and place your drink in the center of the pot
Place on stove and warm contents to ~120-130 °F
Remove glass from pot and pour into serving glass
Model Output
Add a handful of mini marshmallows
Use a culinary torch to roast some mini marshmallows on a safe surface; an iron fajita tray works really well
Add marshmallows to drink
Use the culinary torch to light the top layer of marshmallows on fire
Garish with some leftover toasted marshmallows
Regression

Application: A sweet and nutty drink best paired with reading a good book next to a warm fire.
Raw Data
2.5 oz bourbon
0.75 oz Cointreau
0.75 oz Averna
0.25 oz Nocello (walnut liqueur)
0.5 oz Maple syrup (use the real stuff, preferably grade A)
Orange and cardamom bitters
Bay leaf
Algorithm
Add ice to shaker
Pour in liquid ingredients
Add a few drops of the orange and cardamom bitters
Shake!
Pour!
Model Output
Serve in an old fashioned glass with a single large ice cube
Add a bay leaf in the drink; this is both as garnish and to change the flavor over the time the drink is consumed
Garnish with Japanese maple leaves (yes, I promise those are maple leaves!), bay leaves, and walnuts
The Outlier

Application: Bring the campfire inside with this smoke-heavy cocktail.
Raw Data
1.5 oz rye whiskey (Templeton preferred for this drink)
0.75 oz mezcal (something extra smokey like Xicaru Silver is recommended)
0.5 oz calvados
0.5 oz St-Germain
1 oz Shivelight Apple and Cinnamon shrub
1 apple slice
1 cinnamon stick
Algorithm
Add a handful of ice to your shaker
Pour in liquid ingredients
Light the cinnamon stick and let it burn for a short amount of time; use a microplane to shave some of the char into the drink (a microplane is vital in order to keep the fragments extremely small)
Shake!
Single-strain and pour into a single-serving drink pitcher
Model Output
Use a culinary torch to burn the center of a wood blank. You want it to produce a good amount of smoke once the flame is removed.
Place your glass over the charred area and capture the smoke. This causes smoke particles to adhere to the glass. Additionally, it makes for a nice presentation and smell when the glass is lifted after serving.
Serve on the wood plank along with the apple slice and remaining cinnamon stick
Looking for something a little stronger? Learn more about the services we offer data-driven businesses.