Being a data-driven customer nowadays can be confusing. There are so many choices, and your data lives in very diverse sources. Let me shout something from the top of a mountain—being on the cloud makes it easier and safer.
I can be biased since I've spent a few years at Snowflake. However, having taken a part in nearly 40+ cloud implementations and spending my entire career (25+ years) in data, I can attest that the cloud is the panacea we all need. In this proverbial new world, few have had a relationship as harmonious as Tableau, Salesforce, and Snowflake have. Although I have spent most of my career in data engineering, analytics, and cloud deployments, Tableau has played an important role in my recent engagements. I am excited to discuss them all in this blog post.
Our friends at Tableau are offering an extended promotion trial opportunity for customers to try out Tableau Cloud when they pair it with Snowflake. As part of this offering, you will get access to an extended trial of Tableau Cloud until January, 2023, and an additional discount on your Snowflake renewal or new purchase of Snowflake Consumption Credits if you purchase Tableau Cloud by January 13th, 2023.
There are a few analytics platforms that are built for the cloud. Tableau is one of the best to be paired with Snowflake. For data architects and relics that are used to databases like myself, building dashboards and visualizations is not something we do. I can get you the best performance for the data and create different ways to partition and federate the data, but building dashboards is not my forte. The ease with which Tableau clouds can be paired with Snowflake is a great advantage. Assets such as OAuth and dashboards make this pairing fantastic. 
Tableau Cloud Monitoring Dashboards
When using platforms with cloud-enabled services, having dashboards that your team can leverage and use makes it so much easier. Doing so from day 1 is our best choice.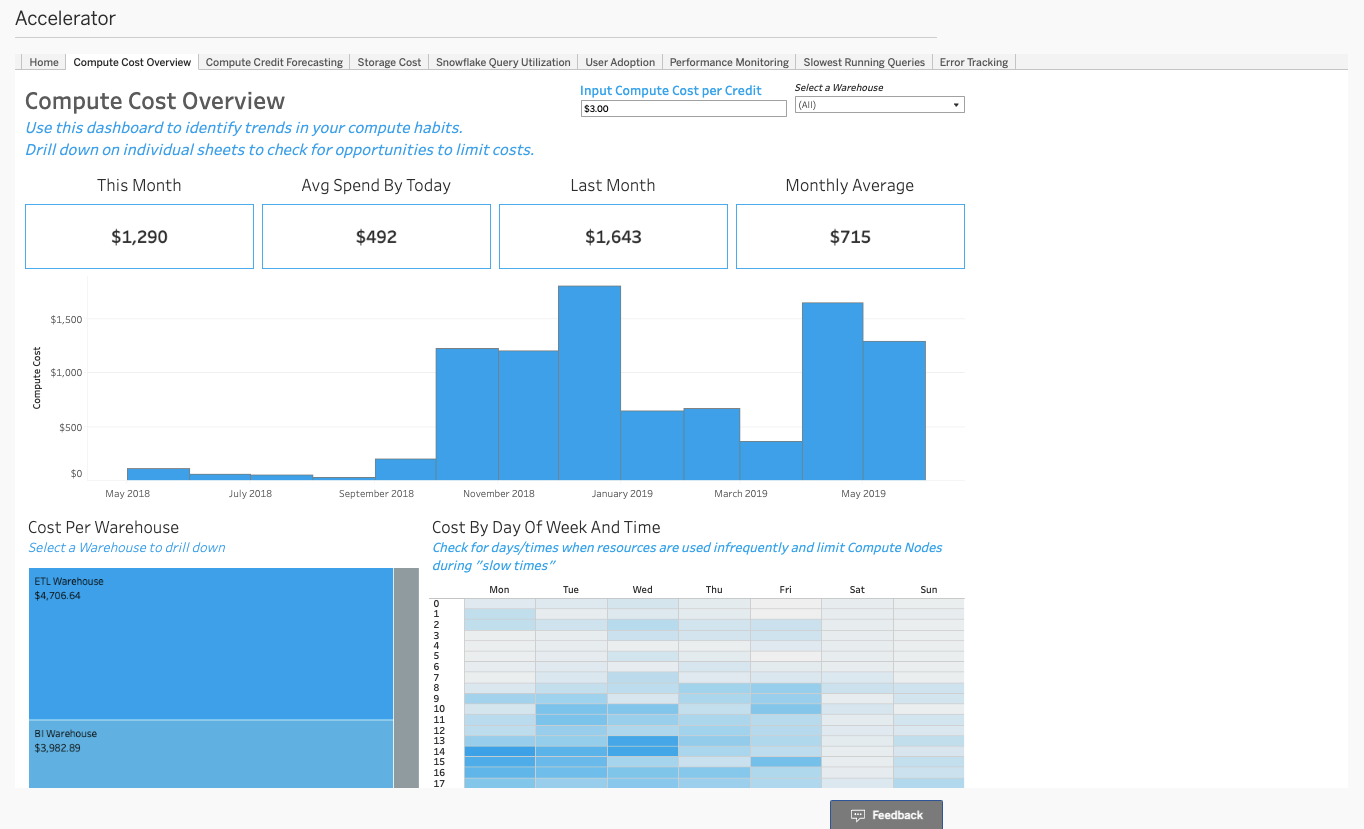 These are great starter dashboards that enable you to discuss cost and consumption at the start of the projects. This important activity is the foundation to "smart" consumption. With proper tagging and association to business processes, IT can leverage the business and associate the needed and requested processes to cost. Again, Tableau just makes it easier to start with these canned templates.
In fact, there is such a commitment to moving your data to the cloud to enable Enterprise Analytics that Tableau and Snowflake offer you a discount to current customers that have migrated to those thinking about it for the remainder of the year. You can earn a credit toward your Snowflake purchase (data cloud) through this lucrative and creative program.
Snowflake and Salesforce Integration to "Data Literacy"
One of the major advantages of cloud computing for data is the ability to throttle up resources to efficiently run your data processes. Almost as important and oftentimes a way to make these processes run efficiently is the ability to source this data on the cloud. When we think of modern IOT and processing, we often think of the sources being on the cloud. However, what about your sales data?
At Atrium, we have become very well known for our CRM Analytics and Einstein Discovery practice with Salesforce. We have won awards for this work. That is why we are excited about the past few acquisitions Salesforce has made toward a true customer 360 experience. This leads to a true frictionless experience with the Einstein Analytics Output Connector and CRM Analytics Direct Data Connector for Snowflake.
With these new connectors that were released at the Snowflake summit in June 2022, Salesforce and Snowflake customers will gain a trusted version of the truth because these connectors give native access between both platforms. Customers can gain access to their Snowflake data, the data marketplace, as well as writing back to Salesforce if/when needed. The data stays in their source systems. Although these features are due to come out at the end of the year, we at Atrium are excited to get started when they are available for private preview testing.
With so many factors going into the modern data enterprise with regards to the cloud, it is hard to see what executives are considering data literacy within the decision makers.
Gartner defines data literacy as the ability to read, write and communicate data in context, including an understanding of data sources and constructs, analytical methods and techniques applied, and the ability to describe the use case, application and resulting value. Further, data literacy is an underlying component of digital dexterity — an employee's ability and desire to use existing and emerging technology to drive better business outcomes.
When you consider the growth of cloud data and the ability to allow for more insights to the right parties when needed is a struggle in every enterprise. That is the modern data cloud challenge regardless of shape or size. However, the combination of Tableau to start your visualizations and the recently announced Salesforce to Snowflake connectors are a great combination to your data literacy.
Here at Atrium, we help you capitalize on all your data investments and become truly data-driven by leveraging Snowflake, Tableau, and Salesforce. Contact us to learn more.