As data volumes continue to increase, getting insights in a meaningful way is the new norm. With that, Tableau CRM is leading the charge. Embedded discovery and insights in Tableau CRM help Salesforce users to understand data trends and key customer insights.
Tableau CRM is already built with deep, native integration across the Salesforce platform. It helps to combine internal data and external data, and provides users with a more intelligent experience. This combined data set can then be used to either perform visualization to provide insights to the end-user, or it can be used to create amazing models to derive insights that help their business users go from insight to action — right within their CRM workflow.
Now that functionality is available out of the box to Tableau users as well. In the past, the missing piece of the puzzle has been predictive insights in Tableau. But with Salesforce's recent launch of Einstein Discovery in Tableau, this puzzle will be solved.
Salesforce Spring '21 Release Notes: Einstein Discovery Connector
In the latest release notes, Salesforce launched the use of Einstein Discovery models directly in Tableau. Starting with Tableau version 21.1, you can get predictions for your Tableau data using Einstein Discovery models deployed in Salesforce. This is fantastic news for Tableau users looking for a complete, end-to-end intelligent experience journey.
The Prediction Prescription Without the Administrative Burden
Users can now leverage the power of Einstein — to get the prediction prescription — while working directly in Tableau. By enabling this feature, users will be able to have a seamless experience without the administrative burden. Simply create a formula field and you are ready to get the real-time prediction. Currently, the value that is returned using this feature is a numeric value, but you can use the value to create your recommendation using the Tableau calculated field feature.
The integration will work by connecting directly to Tableau CRM. The integration is based on the same API as TabPy (analytics extensions API), though TabPy is just an implementation of that API. Einstein Discovery has also implemented the API, enabling direct connections between Tableau and Einstein without requiring any middle layer, such as Python.
Use Cases
With the plug-and-play functionality, you can easily retrieve the prediction based on the Tableau display data using the calculated fields.
Filters can be added based on the prediction field to showcase specific records.
Required fields are generated automatically in Einstein Discovery.
Atrium's Machine Learning Model Broker Service, Launched Last Year
Before the launch of Einstein Discovery in Tableau, there needed to be a custom solution in place to do this work. Last year, we launched our Machine Learning Model Broker Service to enable predictions in Tableau from Einstein Discovery to help fill that gap.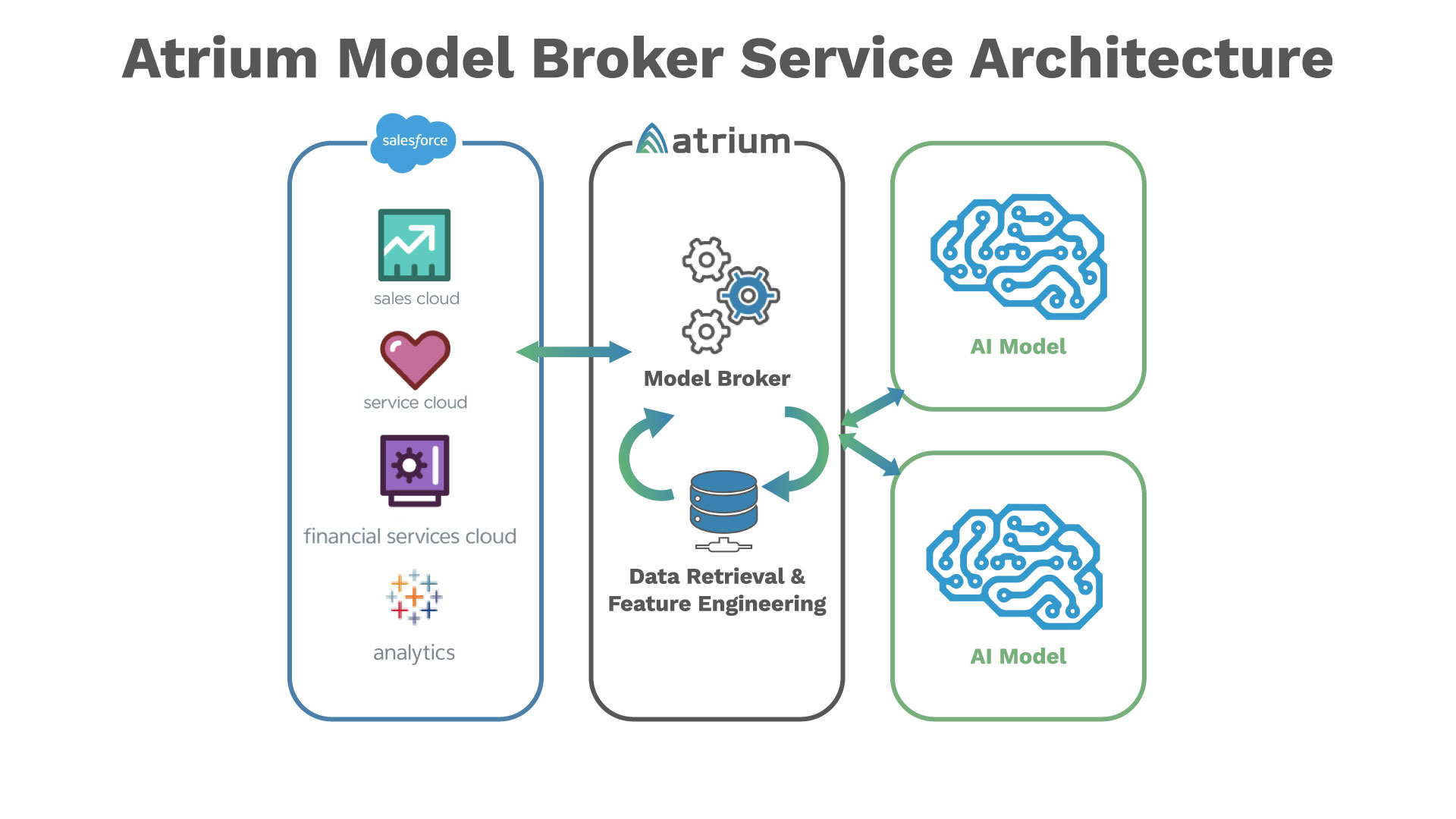 This architecture helped customers to unify data sources and get predictions from anywhere — and the model part and the visualization part of the architecture could be totally different. We created it to help businesses unlock the full value of their machine learning models on CRM. Now that Einstein Discovery in Tableau has arrived, businesses can get the benefit of a seamless integration between the tools — no custom solution required.
A New Tableau Extension
An Einstein Discovery dashboard extension has been added in Tableau's all-new extension library, which helps in the what-if analysis of the result — similar to our Tableau data connector approach. You can get more details about the Einstein Discovery extension here.
Looking Ahead With Einstein Discovery in Tableau
With the new functionality released by Salesforce — using the Get Einstein Predictions in Tableau Using Analytics Extensions and the Einstein Discovery dashboard extension — we've come a long way toward bringing together the insights of Einstein with the visualization power of Tableau.
At Atrium, we have worked with clients in the past to deploy both the native functionality as well as develop custom connectors, which have as reusable assets, and allowed additional fields and insights to be brought into your Tableau solution. Today, Einstein Discovery in Tableau is a great path forward for your specific predictive and visualization needs.
Learn more about Atrium's analytics, AI, and machine learning services.