At Atrium, as stated on our website, our three core values are diversity of thought, authenticity, and taking the initiative. However, after being with the company for almost half a year, I'd argue that there should be a fourth value added to that list: selflessness. Whether it's answering questions and solving roadblocks in our "HALP" Google Chat room, or jumping on a quick five-minute call to troubleshoot a problem or walk through a tough technical concept, my fellow Atrians are always willing to sacrifice some of their time and energy to help one another out.
This altruistic behavior is especially apparent when you take a look at our Cultivate program.
Founded in September of last year, Cultivate's original mission was to provide social good for our communities. It also serves as Atrium's vehicle for fulfilling our Pledge 1% commitment. This year, our leadership decided to combine our volunteerism group with Cultivate, expanding its reach even further. To kick off this merger, our Cultivate team began searching for a volunteer opportunity that matched the values of both Atrium and Cultivate.
With employees all over the world, finding such an opportunity was more difficult than we first thought. Our goal was to find a simple program that would allow all of our employees, both in the US and in India, to participate. When Jack Sampson and Molly Emmett brought me on board to aid in this search effort, I began by drawing upon my own past experiences with nonprofits at Indiana University. I remembered that back at IU, our run club participated in the Linda W. Daniel Foundation's #MoveMeMonday campaign. MoveMeMonday (MMM) encourages the LWDF's followers to move on Mondays, and in turn donates funds to top tier cancer research facilities on the mover's behalf. On their website, the Linda W. Daniel Foundation explains how MoveMeMonday works:
"Each Monday, for every mile participants run, walk, bike, swim, etc. or 15 minutes they exercise, participants earn 1 beat. For every beat shared via [The LWDF's] social media channels or website, the LWDF raises $1 to support select cancer organizations on a one-for-one basis. Anyone anywhere can participate."
(https://www.lindawdanielfoundation.org/movememonday)
Bringing MoveMeMonday to Atrium
After researching more about the MoveMeMonday initiative, I thought it was an outstanding match for Atrium and its Cultivate program, so I reached out and started a dialogue with Laura Daniel, one of the LWDF's directors. After several conversations with our Atrium leadership team and Laura, we were able to construct a robust roadmap for bringing #MoveMeMonday to Atrium.
The Cultivate team decided to split our Atrians into twelve teams. For four Mondays (5/10, 5/17, 5/24, and 6/7), each team would be encouraged to get out and move, then submit their beats via an internal Google form. Atrium pledged to donate $3 for every beat submitted, in addition to the LWDF's $1 match. We also added both an individual and team competition to see who could generate the most beats, with the top three winners in each category receiving various Atrium $wag items. Last but not least, we added a weekly photo contest component, which awarded five beats to the person and team with the most creative/inspiring photo of the week. With the parameters of our MMM campaign in place, there was nothing left to do except kick it off!
The first Monday was May 10th. As a company, Atrium generated 177 beats, good for $531 raised! While week 1 had the lowest beat generation of the four weeks, it did have stellar participation with 50 Atrians submitting beats (approx. 40% of our company!). Team We Got Miles took an early commanding lead in the team competition with 42 beats, while teams 3, 7, and Los Hansons followed closely behind with 22, 21, and 19 beats respectively. Dennis Lee and his dog Maple won our first photo contest, as they captured our hearts with their matching hats. I know I was googling dog sombreros on Amazon after I saw this pic!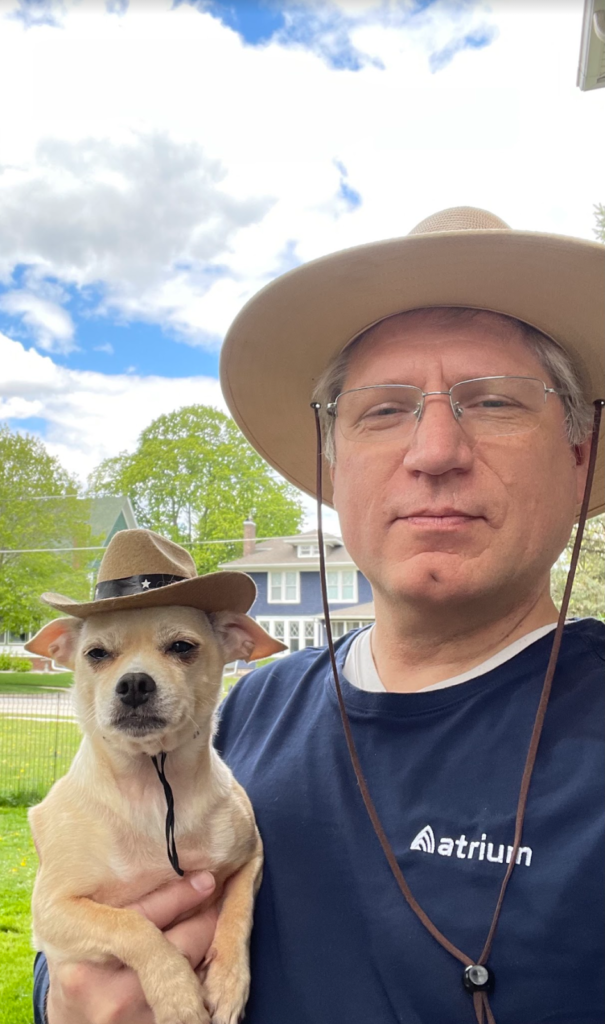 Across the company, all of our movers took a big step forward in week 2. As a whole, we generated 240 beats, 63 more beats than the previous week! One of the big storylines from this week was the resourcefulness of the Collinear Coplaners (formly team 7). Originally, we assigned the teams using a random number generator. One of the Atrians on the Collinear Coplaners, Gene James, was on sabbatical hiking the Appalachian Trail. While he submitted no beats in week 1, in week 2 his team was able to contact him, inform him about the MMM initiative, and ultimately get his beats submitted. This proved to be a smart and dynamic move for the Collinear Coplaners, who absorbed Gene's 19 beats on their way to equalizing the team competition. After week 2, We Got Miles was still in the lead with 91 total beats, however the Collinear Coplaners were only 4 beats behind at 87. The individual competition remained tightly contested, with 7 Atrians generating between 12 and 16 total beats.
Heading into week 3, Atrium's leadership continued supporting and marketing the MMM campaign, which led to the highest weekly beat total yet – 292 beats, good for $876 raised! At this point in the campaign, Atrians had really rallied behind the cause, and were blocking MoveMeMonday time on their calendars, meeting up with fellow Atrians in real life to earn beats together, and generally supporting one another in our Fitness Forum and Water Cooler chat rooms. The Collinear Coplaners were able to take a small lead over We Got Mile in the team competition (155 vs 148 beats), and Molly Emmett took a commanding lead in the individual competition with an eleven-beat week, putting her total at 27 beats. Megha Chauhan played a big role in the Collinear Coplaners taking the pole position, as her majestic hair flip won them that week's photo contest (seen below)!

The Final Tally
With both the team and individual competitions still in play, the stage was set for a dramatic week four finish. After skipping the Memorial Day Monday, our Atrians were well-rested and ready to go all out for their last chance to submit beats on the fourth and final Monday. Throughout the initiative thus far, I had always updated the team on the Tuesday following one of our MoveMeMondays. However, on the last Monday, I decided to lean into my flair for the dramatic, and left our company waiting in suspense by deciding to reveal the winners and final tally a whole week later on our next company-wide call. During the MMM segment of that call — dubbed the "MMM Closing Ceremonies" — we recapped the successful month of Mondays we had just witnessed. With the John Williams Olympic Theme Song playing in the background, we showed a litany of fabulous photos that our Atrians had submitted over the last four Mondays (seen below).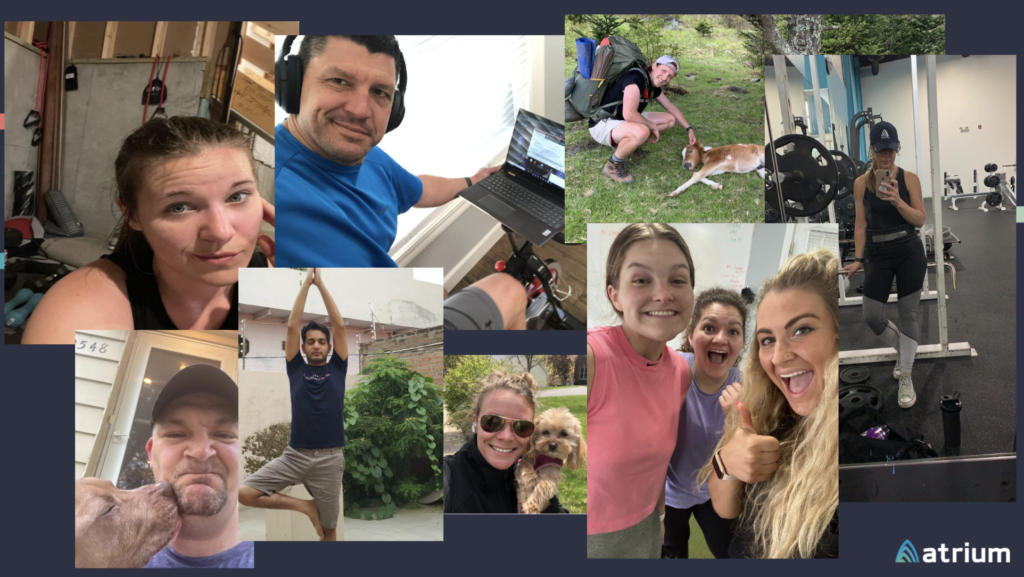 Then we recapped our collective accomplishments. Altogether, we were able to generate 977 beats, raise $2,931, and have over 75 unique Atrians participate! It took 14,655 minutes of exercise to generate those beats, a huge achievement for our Atrians.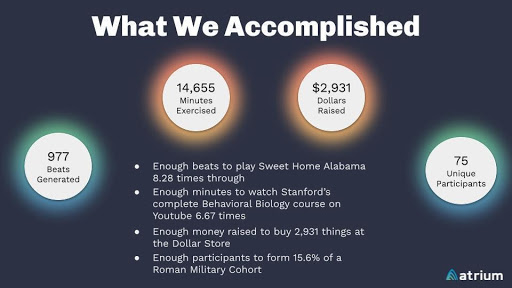 Finally, the moment our company had been waiting for arrived: the reveal of the winner of our team competition. Team 11 came in third place with 100 beats. That left the two teams out front, We Got Miles and the Collinear Coplanars, with a chance for victory. With a nail-biting ending, the Collinear Coplaners were just barely able to edge out a 10 beat victory, taking first place with 212 beats (We Got Miles tallied 202 beats). Congrats to the Collinear Coplanars! Each of their members in the US and India will receive a commemorative LWDF x Atrium MoveMeMonday t-shirt. Well deserved!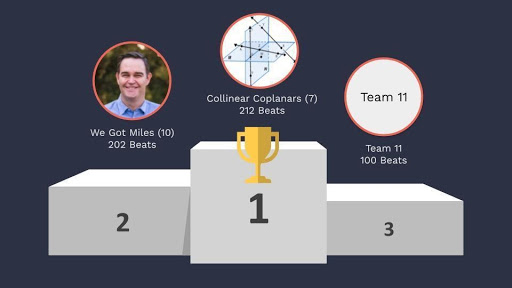 That left just the individual competition left to reveal. There was a tie for third place with Tyler Pollard and me each generating 34 beats. Molly Emmett, with her gorgeous Colorado trail runs, tallied 38 beats, good for second place. Our first ever MMM individual winner, who only won because of his last second 45-minute evening bike ride, was Will Heikes. Congrats to Will! All of our individual winners will receive the Atrium Summer Swag bundle along with a shirt. Will, as our overall champion, will receive a free subscription service of his choosing, good for $150! Congrats to all our winners, and to everyone who participated!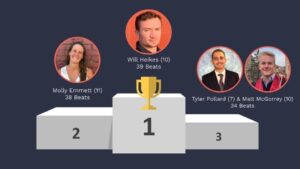 Wrapping Up
All in all, bringing MoveMeMonday to Atrium was an outstanding success. Not only were we able to raise almost $3,000 for the Dana-Farber Cancer Institute's patient navigation program, which helps Dana-Farber's most vulnerable patients, but we were also able to reframe the conversation around working out. There is no doubt that Monday is the hardest day of the week to exercise, and by providing an incentive we were able to make it easier for Atrians to find time to move. An Atrian shared with me "I gotta say this Monday thing got me working out again", which was the exact purpose of this program! While as a society we continue to collectively work towards a cure for cancer, we can't forget that prevention is just as crucial, and exercise plays a huge part in preventing many forms. Altogether, I was happy to see the revitalized positive energy that this Cultivate initiative was able to… well… cultivate. As our company continues to grow and expand, it's important to find ideas and causes that our employees can band together and rally behind, and I'm happy to see that was the case with MoveMeMonday.
If this article has you wanting to participate in MoveMeMonday, you're in luck! You can participate from anywhere across the globe by moving, and then submitting your beats to the LWDF (either on social media, or via this link). You can also watch the MMM closing ceremonies video here, or read more about our Cultivate program.