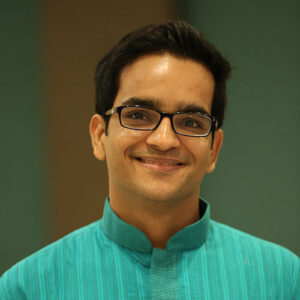 What do you do at Atrium?
I lead the offshore Data Integration and Analytics team at Atrium. I'm not only responsible for leading this team, but I also love getting into the roots of a problem and finding a solution. Hence, I'm constantly learning and adapting to new disciplines which is a common theme you'll find in the Atrium team.
Can you give us a little of your professional background
I have a degree in Computer Engineering and started my career with a consulting organization in data warehousing as an ETL Developer. Later, I had some amazing opportunities to work with different firms and explore diverse company cultures and, in the process, work and learn multiple technologies.
After spending several years focused on data warehousing and on-premise systems, I made a shift to cloud solutions, just because my curious mind wanted to explore. This is when I got into Salesforce and after working and learning for some time, I was again curious about how the world of Sales operates and how solution design and architecture intersect. This led to my most recent role before joining Atrium in Pre-Sales as a Solution Architect.
Why did you decided to join Atrium?
The first reason is I've always been interested in finding out how data can help organizations and how it can be used to improve the future. Atrium gave me the opportunity to pursue this interest and along the way provide a path for continuous learning. And this really leads to my second reason which is a desire to avoid a monotonic working environment. At Atrium, we emphasize creativity and constantly exploring new possibilities to find solutions for our customers. And my other big reason for joining Atrium is the team, which provides a great work environment and their expertise to learn from.
What excites you most about the ML/AI Space?

To be honest, the first spark about AI came while watching Terminator series. Skynet made me think, "can machines or a computer program really do that?" And here we are creating systems which not only predict but are also smart enough to make decisions, do your daily tasks and beat players in games (AlphaGo). Every day there are new innovations happening in the field of AI which makes it really interesting but also keeps you on your toes. The ideas that drive these intelligent systems, drive our future. There are a lot of capabilities which are yet to be discovered and it makes your mind go from "Okay, this is complete" to "No, there is something more here". (I hope they don't evolve to Skynet though.)
Give us one interesting nugget about yourself that we might not know
I am an avid coffee lover, and love to try out new coffee flavors and brewing methods (which sometimes turns out to be a bad idea).
Favorite pastime or hobby?
I love reading…not confined to technical stuff, but about other fields and how things work. When I'm bored with everything I buy stuff related to sports and hence I am usually asked to stay away from sports stores.
Favorite spot in Jaipur?
Nahargarh Fort, built in 1734, provides a great scenic view overlooking Jaipur city. It's built on the edge of a mountain. Moreover, the place is no less than a hill station in monsoons.