Over the last year, Salesforce has been working hard to build tools that allow users to take advantage of their data with machine learning, statistical models, and artificial intelligence. And today, the set of tools available to users to analyze their data is quite expansive. One such tool is Einstein Discovery. For Salesforce customers who wish to leverage their data for binary lead/opportunity scoring, prediction of quantitative variables, or propensity modeling, Einstein Discovery is a tremendously powerful tool that integrates directly into a user's Salesforce environment via Analytics Studio.
What's New with Einstein Discovery
Einstein Discovery is only getting better – especially for tracking and optimizing model performance. Users who are familiar with Einstein Discovery will notice that some big changes have been made to the Discovery UI in the Summer 2019 release. While results are still presented as bar plots showing the predicted propensity of success for logistic regression models and predicted numeric quantities in linear regression models, some exciting additions have been made.
The most impressive changes in the new update pertain to tracking model performance. A brand new interface for assessment of model metrics is available. For binary regression models, the previous version has been replaced by tools that more effectively address model performance and give users a good look at the technical nuts and bolts of their model – an effective tool for data experts and citizen data scientists alike.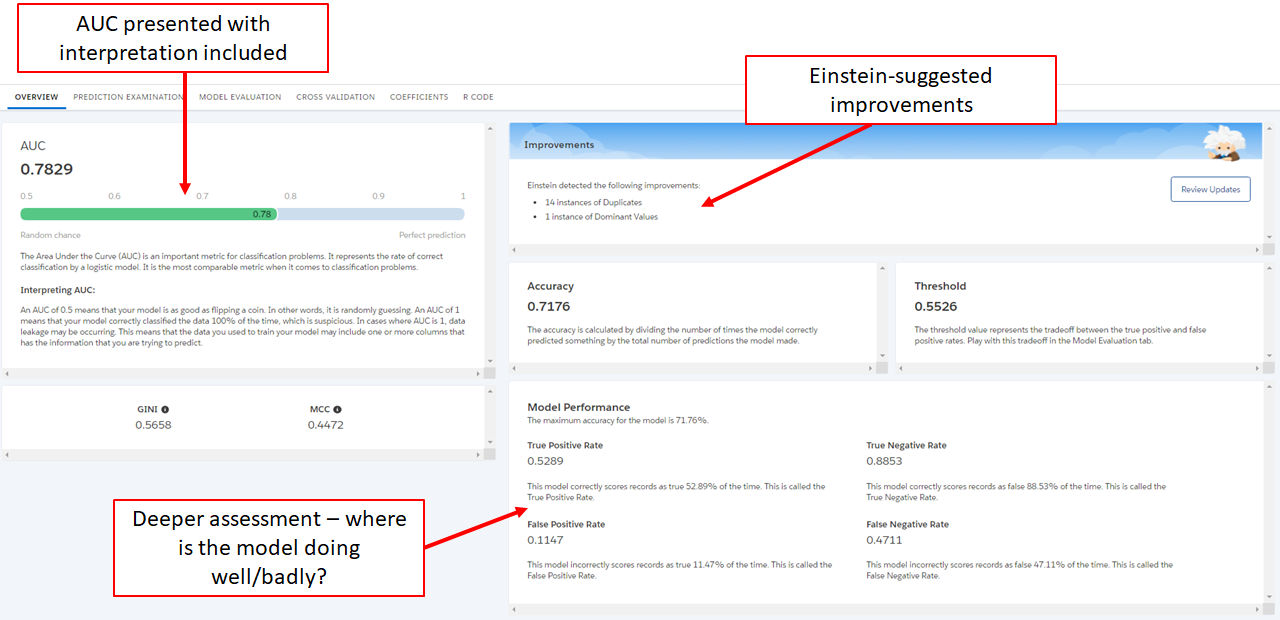 A user can now immediately assess the global performance of their model with a color-coded AUC score, shown in the top-left gauge chart. Those wishing to drill down into more specific model results can look at the bottom right, where a user can assess the specific components (True Positives, True Negatives, False Positives, and False Negatives) of where a model is doing well or poorly. The new and improved Einstein Discovery's focus has shifted from simply reporting model metrics to surfacing salient values with each metric's interpretation. For a user who isn't a statistics expert, this is crucial. For instance, a business analyst can fit a model and see how it performed without digging through a table of irrelevant or misleading metrics. Now, the most salient metrics are presented upfront.
In the new Model Evaluation tab, Discovery unveils a much-anticipated feature where users can explore different thresholds to test model performance on an interactive Receiver Operating Characteristic (ROC) curve. Model predictions are even added to a Confusion Matrix that shows the predicted vs. actual classifications based on that choice of threshold.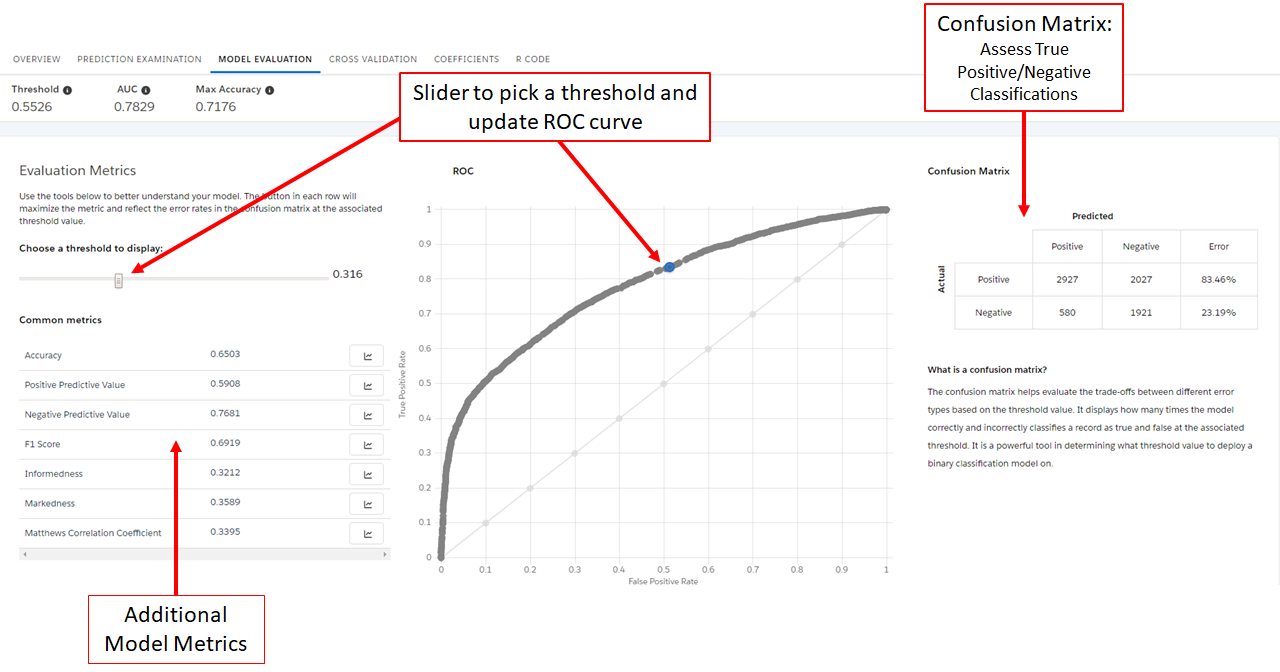 Einstein Discovery is also continuing to improve the writeback process to allow scores to be written back to a Salesforce object. For more advanced users, Discovery connects to the statistical software package R, a function that has been improved over the last year. Additional diagnostics on scored records can be easily performed using Analytics or R, depending on your preference of tools. For more advanced assessment of long-term model performance, Atrium provides a model monitoring dashboard that tracks performance long after the initial fit. At Atrium, we believe models need to be cared for and maintained with a keen eye focused on the long-run.
Intuitive and User-Friendly for Everyone
With all these improvements to Einstein Discovery, it's a fair question to ask: What do I need to know to be an effective user of this tool? The good news is that you can build dynamic, accurate models in Einstein Discovery without needing a Ph.D. in Data Science. Einstein Discovery is built to be used by business analysts, citizen data scientists, and experts alike. By surfacing the most salient model metrics and focusing on interpretability, Einstein Discovery has never been more accessible.
Trying to get the most out of your data? At Atrium, we believe model-building is an iterative approach that involves common sense, business expertise, and just a little bit of statistical know-how. We'd love to help plan your data strategy and enhance your Salesforce-driven insights. Contact us today to get started.