What's an average day at Atrium like for you?
A typical day for me consists of a multitude of activities, mainly consisting of client interaction calls, sync updates with my Atrium team, internal Elevate initiatives, culture updates, and client project work in varying capacities. 
What brought you to Atrium?
Although there were several reasons for joining ranks with Atrium, one of the driving factors was my trust in our leadership team's vision for Atrium. Loads of respected colleagues from the past joined, which had a significant influence on enticing me to climb aboard also. The opportunity to help shape the organization in a meaningful way as an individual contributor was HUGE for me.
What keeps you at Atrium?
THE PEOPLE! Plain and simple, our team is a true family! This is the secret ingredient that most organizations overlook, but our people and culture make this place special to me.
Any secret talents or hobbies we should know about?
I'm not sure I have kept my passion for adventure a secret, but I am wildly passionate about travel, exploration, and adventure. This is frequently demonstrated by random skydiving, hiking, surfing, mountain-biking, kayaking, skiing (water and snow), and of course drumming in a garage band (we stink, but it's fun). Occasionally you can find me behind the wheel of a supercar as I am a huge car nut and founder of the Petrolhead chat board at work. In fact, we are due for another happy hour. LOL.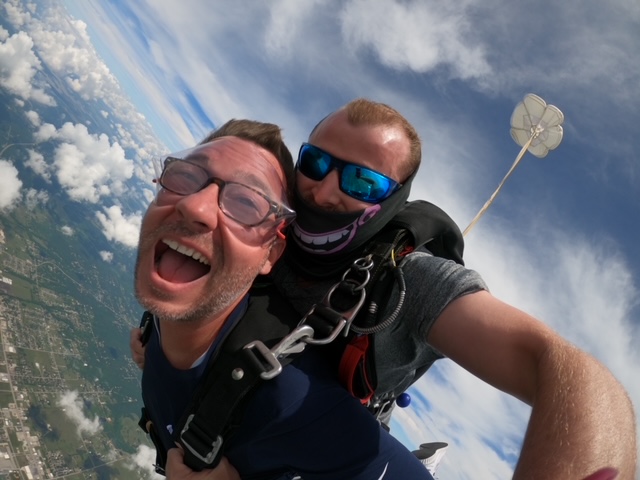 What are you working toward next in your current role, or in your career in general? 
As a functional manager, I still strive personally to keep up with the latest technologies. I plan to explore UI-focused studies in the fall to broaden my creative pallet for the Tableau and TCRM related projects I support. From a leadership perspective, I intend to empower my team to try new things, explore creative paths in their careers, and support them in reaching their full potential any way I can. After all, my team is what makes working at Atrium so awesome! 
What's something you'd want our customers to know about Atrium?
My approach to supporting my customers is a bit non-conventional. I strive to break down barriers and work hard to develop a deep and lasting relationship with them as not only a colleague, but as a friend. I would want our customers to know that Atrium is a company that cares deeply about their successes as much as our own. Through celebrating victories and overcoming challenges, we will be with them every step of the way. I have found that by cranking the FUN level up to 11, we get a heck of a lot more done together and I love being the "easiest call of the day" for clients.
What's something you'd want new team members to know about Atrium?
This company genuinely cares about your success, happiness, and feelings of inclusion. Our culture and the people are here to support and care for one another and to bring a level of pride and dedication to our craft. I believe this is apparent in the folks I interface with daily and the ones who are just joining us for the first time. Have fun, take chances, and enjoy the ride!
Want to work with this great group? We're hiring!