Earlier this year, Salesforce released a new product called Revenue Intelligence, a fascinating combo product that helps organizations pinpoint how they are tracking targets and framing their forecasts. Revenue Intelligence includes a combination of slick custom Lightning components, embedded Einstein predictions, and pre-built CRM Analytics dashboards. At times, it's been positioned as a "CRM Analytics product"; and while it's a worthwhile investment for many companies looking to upgrade their standard CRMA licenses (or get started with CRMA), a bulk of the benefits come within the Salesforce core product. Through this blog, I'll outline the different components you can expect to get with Revenue Intelligence, call out some important "gotchas" that could derail your implementation if you're not careful, and help lay out a short roadmap for the order in which you should turn on the different components within Revenue Intelligence.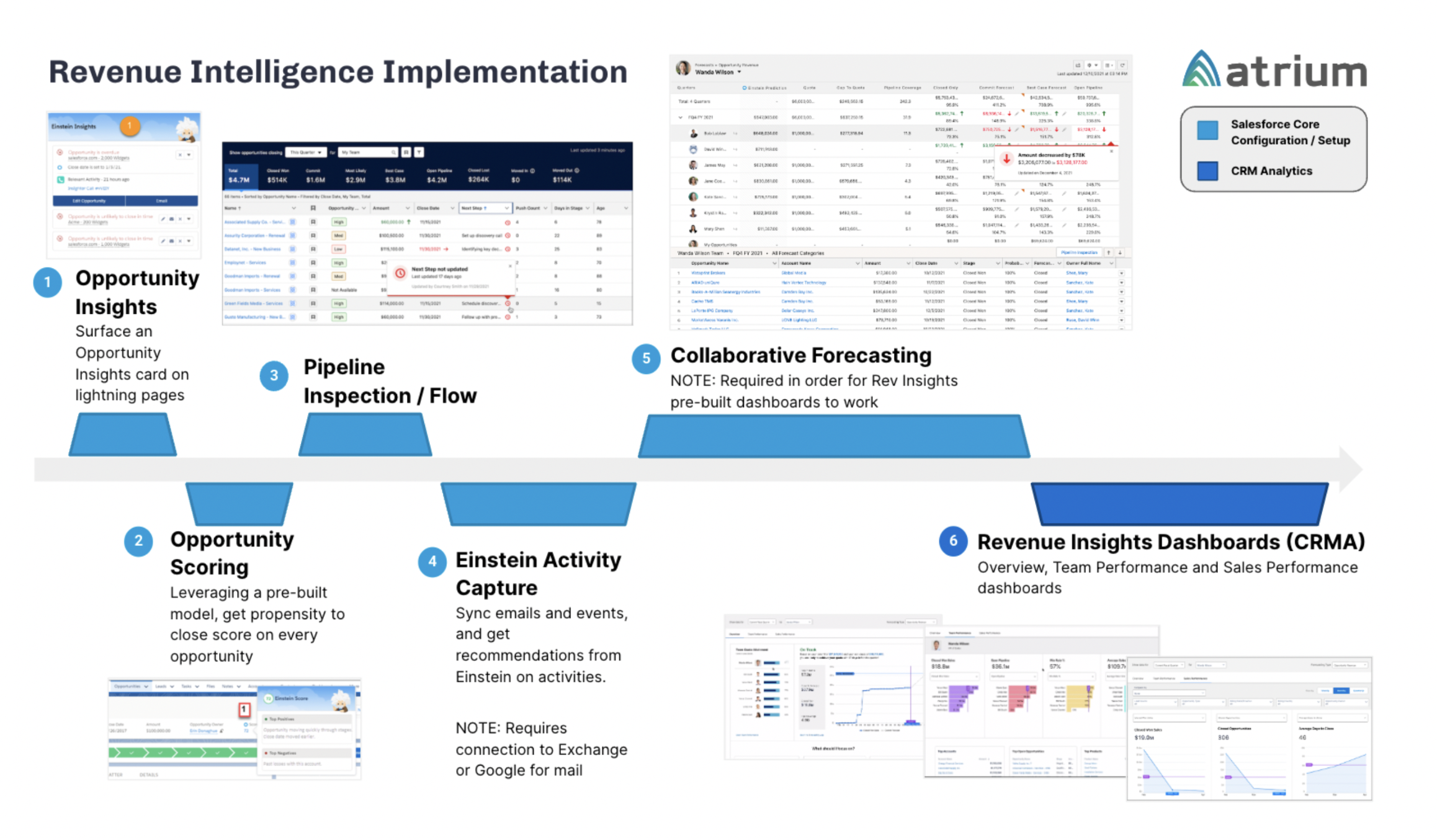 Above, you see the 6 main components that make up Revenue Intelligence. I'll explore each one in more depth.
1. Opportunity Insights – We'll start small: Opportunity Insights surfaces relevant updates about opportunities in the form of an Einstein Insights component on the Home page and opportunity records. This can be things like overdue opportunities, or opportunities that Einstein determines are unlikely to close in time. From the Einstein Insights component, you can take direct action to update the opportunity or dismiss the alert.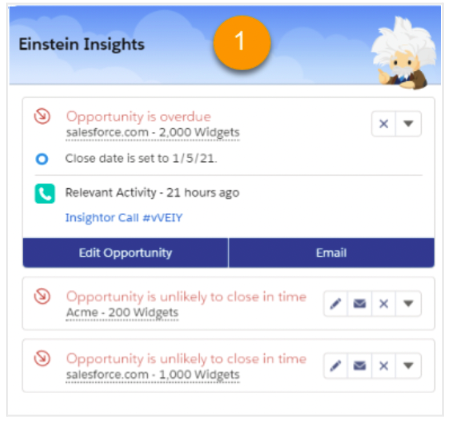 From an effort standpoint, enabling Opportunity Insights is quick and relatively painless, and so it's where we recommend organizations starting with Revenue Intelligence begin. After some configuration steps as an Admin in your Salesforce environment, you'll then add the Assistant component to the Home page and the Einstein Insights component to opportunity Lightning pages.
2. Opportunity Scoring – From there, we like to move on to Opportunity Scoring. This feature leverages a pre-built Einstein model to determine a propensity to close score for every opportunity. This score will essentially give you a relative likelihood that an opportunity will be won. As a caveat, the Opportunity Scoring model is a black box. If you have special conditions that might significantly change the likelihood of an opportunity to close, especially if those conditions are unique to your business, you don't have the ability to change the output of that model. However, it's a nice reference point, and the model is built on thousands of examples. The output ends up being relevant, at least directionally, for almost all customers.

3. Pipeline Inspection / Pipeline Flow – This is where things start to get really exciting. In my opinion, Pipeline Inspection may be the most valuable component of Revenue Intelligence. Salesforce built a beautiful and user-friendly interface to allow salespeople to navigate through their pipeline of open opportunities and make inline edits to things like amount and close date. Intelligent alerts are built right into the component, calling out suggested next steps or reminders of planned activities.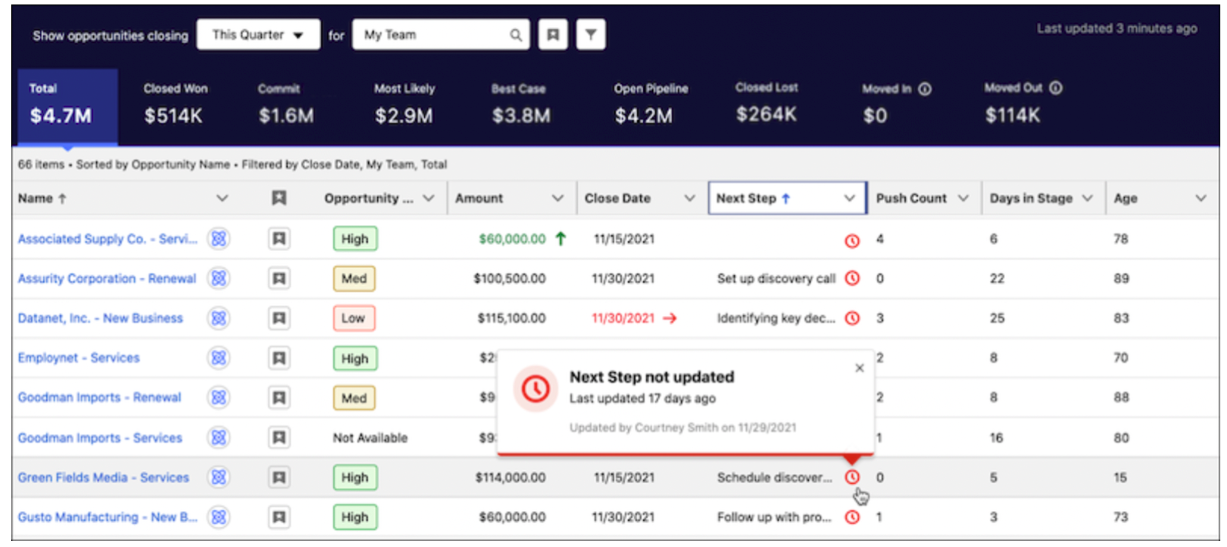 To supplement that component, users can toggle to Pipeline Flow, which visualizes how a user's pipeline has trended since a selected date via a Sankey chart.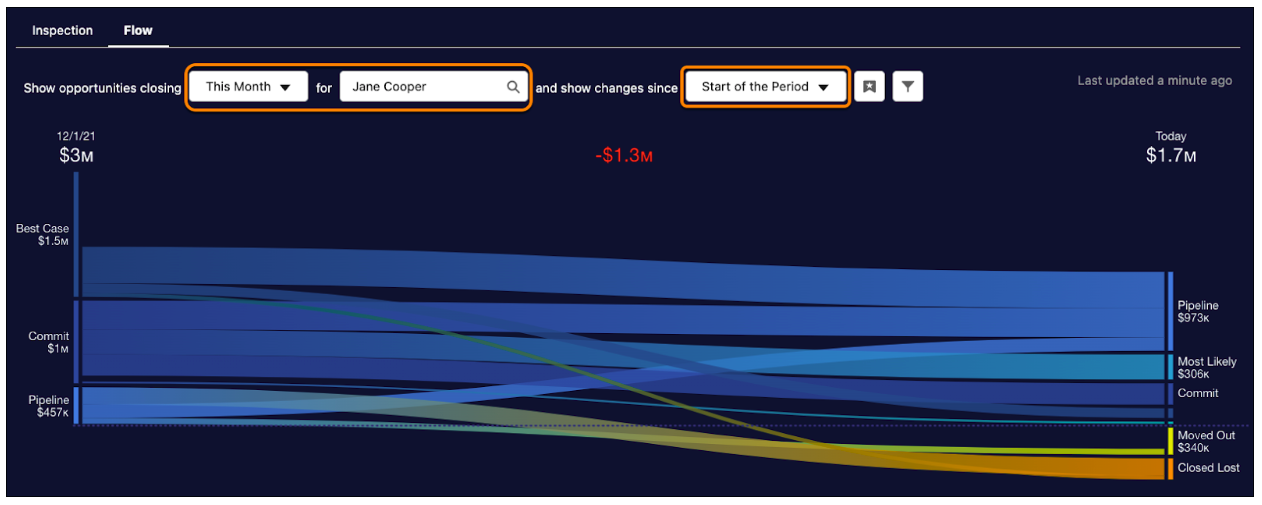 4. Einstein Activity Capture – To fully get the most out of Opportunity Insights and Revenue Intelligence, Einstein Activity Capture is the next feature we recommend enabling. This could slot ahead of Pipeline Inspection, but it does require connecting to an organization's mail server (Exchange, Google). Depending on how your organization operates, this can be easy, or it can be a bit more challenging; because of this, we slot it here in our "order of Revenue Intelligence operations".
Einstein Activity Capture allows you to sync emails, events and/or contacts to Salesforce. However, the data never resides in Salesforce. It does, however, get copied to a secure Salesforce AWS instance. I mention this simply because it can be an issue for InfoSec at some companies.
Once Einstein Activity Capture is enabled and records are syncing, Einstein can comb through that data and make even more intelligent suggestions on what activities need to be done.
5. Collaborative Forecasting – Along with Pipeline Inspection, Collaborative Forecasting is my favorite feature of Revenue Intelligence. Once again leveraging slick Lightning components, Collaborative Forecasting presents key information on quota attainment, pipeline coverage, and forecast amount by category, all on one page and at a user's fingertips. Quick visual indicators show how numbers are trending, and an interactive opportunity list allows updates in realtime.
It's all great – if your organization is willing to use collaborative forecasting. At Atrium, we don't see this tool enabled nearly as often as we'd expect given its value, and that can be for a variety of reasons. That becomes important, because the pre-built CRMA dashboards that come with Revenue Intelligence primarily work off the Forecast objects in Salesforce. And if you're not doing Collaborative Forecasting, those objects will not be populated.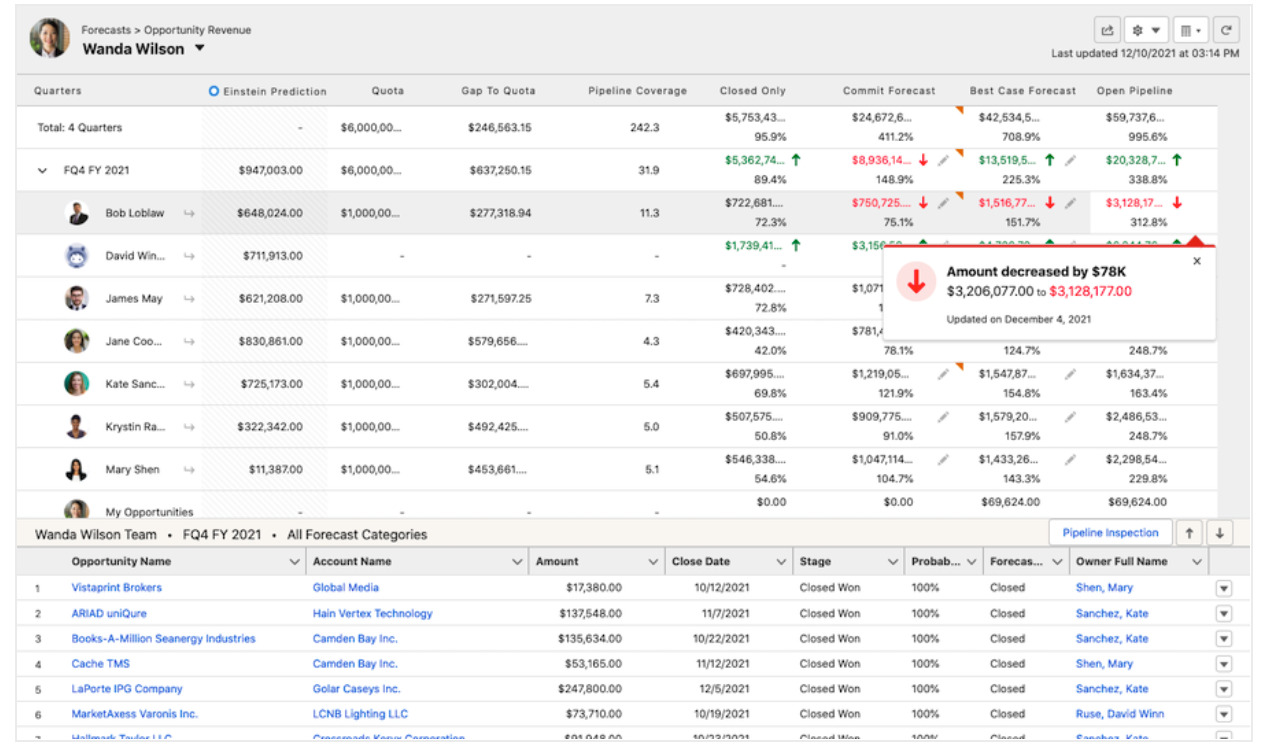 6. Revenue Insights Dashboard (CRMA) – And at last, we get to the piece closest to my heart, the pre-built CRMA dashboard. As Atrium's VP of Analytics, I lead our CRMA team, and so we were thrilled to see these thoughtful dashboard pages created as part of the Revenue Intelligence product. There are three pages that combine to form the Revenue Insights dashboard: an Overview page, a Team Performance page, and a Sales Performance page.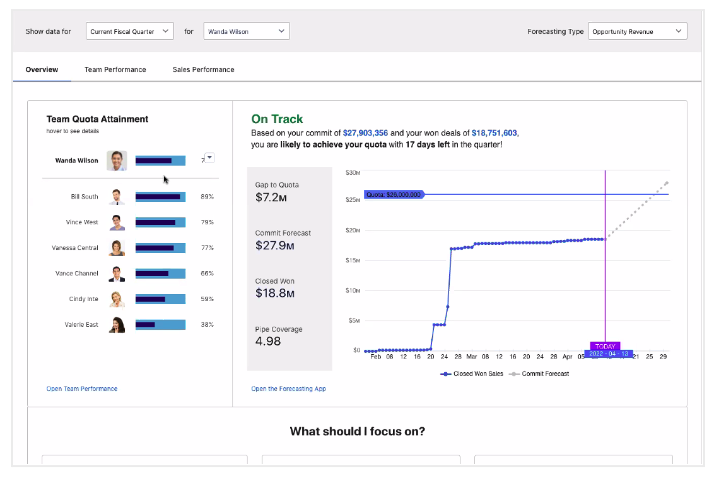 The Overview page tracks team quota attainment against their goals, and clearly shows how a given team member is faring both against their own goals and relative to their teammates. The Overview page also leverages time series forecasting to estimate when a user will hit their target, as well as real-time queries against the forecast objects that allow the dashboard to be instantly updated as a user tweaks their forecast within Salesforce.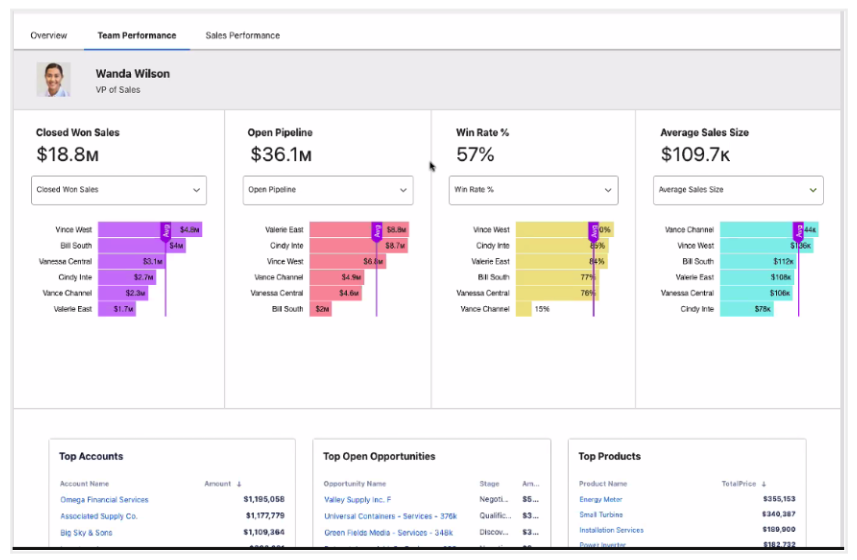 The Team Performance page within the Revenue Insights dashboards is a dynamic playground for a user (or their manager) looking to dig more deeply into some of the metrics that might be driving positive or negative performance. Users can toggle among a staggering 15 different metrics, ranging from Closed Won Sales to Pipeline Coverage to Activities Completed. And for each metric, they can see the top performers within the group.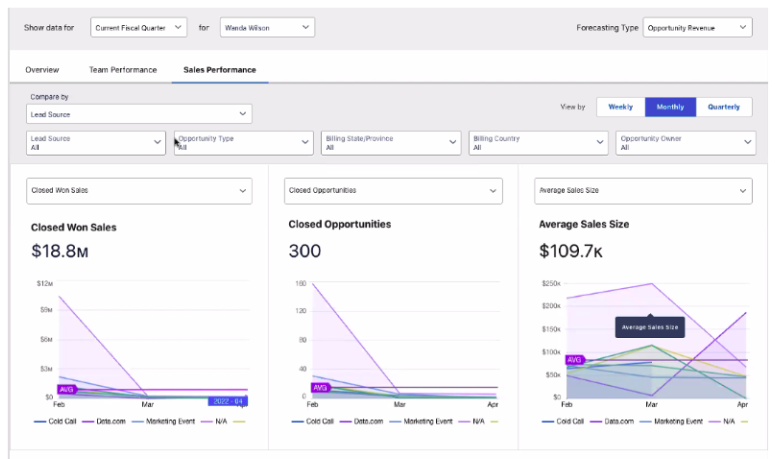 Lastly, the Sales Performance page allows users to compare a handful of those same metrics across a comparative dimension. So, instead of just seeing Closed Won Sales, you can see Closed Won Sales by Lead Source, or by Opportunity Type, aiding in progressively disclosing information as users uncover deeper areas they wish to explore as they move through the dashboard pages.
The lone challenge with these dashboards is, as I mentioned, their reliance on the forecast objects (ForecastingQuota, ForecastingType, ForecastingItem), as well as the forecast hierarchy. If you're using forecasting in Salesforce, they will work beautifully; if you're not, you'll likely need to create your own dashboards to uncover some similar information.
Luckily, at Atrium, we have a set of pre-built accelerators that help supplement your Revenue Intelligence implementation. Tap into something small, like our "Booked+Weighted Pipeline vs. Quota" component, or our "Pipeline Shortfall" component, either of which will help reps answer the question they care most about: "am I going to hit my number?" Or, you could leverage our "Quota Scoreboard", which helps reps not only see how they're tracking against their number, but also how they stack up against their peers and how they have been trending. Or perhaps you want to dig more deeply, and see team performance against a variety of metrics using our Metrics Scoreboard (pictured below).

As a whole, Salesforce's Revenue Intelligence product will be a gamechanger for many companies. It's one of the first times Salesforce has created a bundled product, and I think they did a masterful job of building a suite of tools that can rocket organizations forward in terms of sales efficiency and sales effectiveness. At Atrium, we're bullish on the product, and in addition we have created supplementary accelerators to help you get the most out of your Revenue Intelligence journey.
Looking to get started? Our Revenue Intelligence Quickstart has you covered.