The COVID-19 vaccination program has ramped up around the globe, though one of the biggest challenges the world is facing is the distribution of vaccine doses to billions of people. Technology can play a critical role in ensuring it's done effectively and efficiently.
Salesforce has made a move to help customers manage those efforts, and in January, they announced Vaccine Cloud to help governments, healthcare organizations, businesses, and nonprofits in coordinating vaccines, citizens, and employees. This will more rapidly and efficiently deploy and manage vaccine programs.
As an example, in the press release, Jefferson McMillan-Wilhoit (Director of Health Informatics and Technology of the Lake County Health Department in Illinois) said, "Our cloud-based AllVax system enables us to shield our community and employees from some of the difficult logistical pieces of the vaccination process to focus and execute on our core mission — promoting the health and well-being of all who live, work, and play in Lake County."
Vaccine Cloud has huge potential to help quickly manage and simplify vaccine programs at a large scale on the Salesforce platform.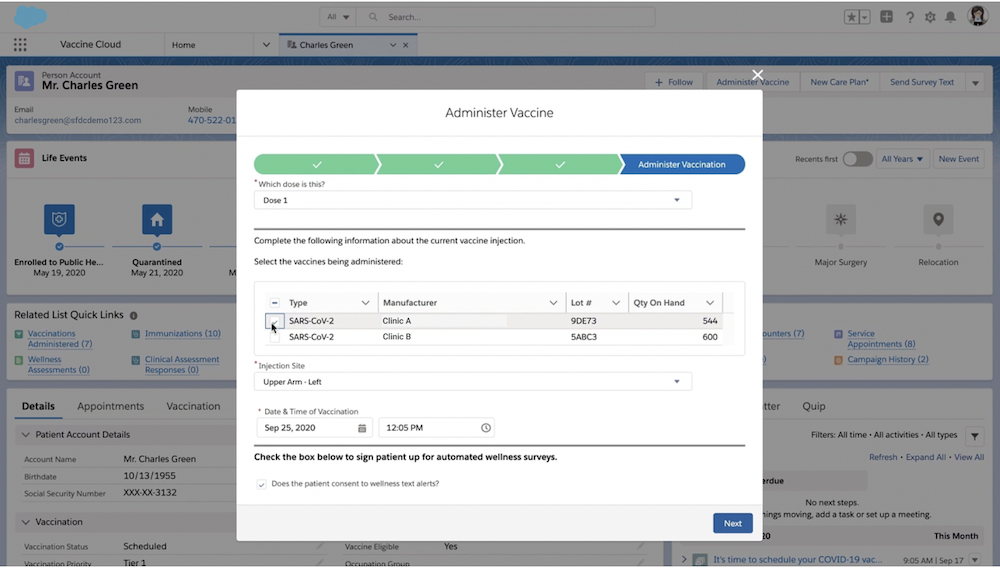 Source: Salesforce.com
Get to Know the Benefits of Vaccine Cloud
Vaccine Cloud allows governments and public health agencies to pull in data from their existing Salesforce solutions or third-party systems to help them monitor the effectiveness of their vaccination programs and make data-driven decisions. Here is some insight into what Vaccine Cloud can do:
Scheduling, Vaccine Type and Protocol Planning, and Consent Management
It can manage vaccine distribution with centralized scheduling capabilities. Health authorities can plan and manage vaccination efforts to reach people at scale, as well as understand vaccination rates, track inventory, watch outcomes, and communicate with the public. With the large number of people in a short amount of time, vaccination appointment scheduling helps organizations make sure the vaccine type and protocol history are available as needed.
It can easily schedule and prioritize vaccination appointments by helping clinicians perform health assessments, capture electronic consent, and determine eligibility. Also, it deploys in as little as two weeks with simple, repeatable administration workflows. It can manage consent, registration, scheduling, dosing, monitoring, and also enable contactless visits via QR codes, as well as self-service and on-demand appointment scheduling.
Proof of Vaccination, Community Engagement, and Trackable Progress
Vaccine Cloud helps to visualize vaccination data and verify digital health credentials. Its automated bots help manage scheduling and follow up. It can manage cases and inquiries around health credential records and integrate easily with common digital credential standards, which will also verify digital health credentials to show proof of vaccination.
 It helps public health officials to interact with the community through notifications, and curates accurate education and outreach campaigns. This will ease the burden on staff by handling vaccine payments and reimbursements and automating recurring communications — such as second dose reminders. The tool will notify people when it's time to return for a second dose, alert site managers to restock based on scheduled appointments, and communicate potential recalls and trace back capabilities from adverse events.
Supporting Government Agencies, Healthcare Providers, Employees, and Businesses With Vaccine Cloud
This provides government agencies with the data and analytics to track progress — including doses, patient outcomes, and consolidating related data from disparate systems. For healthcare providers, the benefit is in inventory, scheduling, staff training, payment and communication, all easily handled by Vaccine Cloud. For businesses, it not only helps scheduling vaccine appointments, but also allows people to share their vaccination or health status so employers know when they can safely bring people back to work.
In addition to the functionality for government agencies and healthcare providers, Vaccine Cloud can provide data to businesses for us in making decisions about re-opening offices, retail locations, entertainment venues, or other facilities.
Learn how Atrium improves experiences and provides better patient outcomes for life sciences organizations.