Getting started with an effective customer retention strategy isn't as easy as it sounds. When companies start focusing on how they retain the consumer base they already have, they may find that their data-driven strategies don't have the appropriate depth and strength needed. How can organizations gauge where they are on the customer retention maturity curve?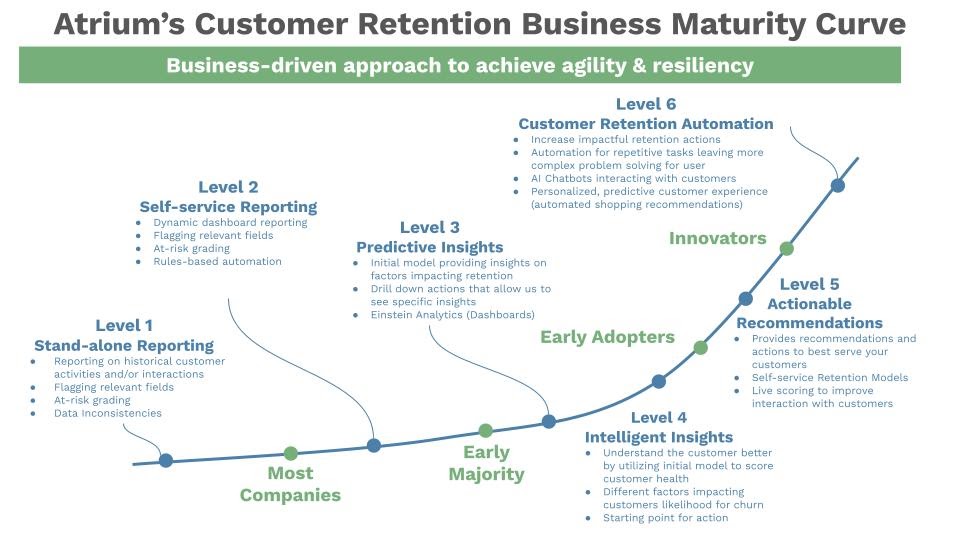 Atrium uses a readiness assessment that can be leveraged by sales and strategy teams within your organization to assess the maturity of your company's retention strategy. In order to effectively evaluate your organization's current maturity level, we evaluate against six key principles:
Customer Attrition Data
Strategic Initiative
Data Governance
Existing Application
Functional
New Frontier
The primary objective is to evaluate how your current state matches against the six principles, and then to perform a score-based analysis to determine what level of the retention maturity curve your organization falls within in order to develop a future state roadmap.
Defining Our Customer Retention Readiness Report: An Overview of the 6 Key Principles
How can we ensure that a data-driven customer retention strategy is done right? Through our six key principles, Atrium can uncover where your company is strong and where your company can grow when it comes to readiness in intelligent solutions.
Let's take a look at the six principles that define our readiness report, and what metrics determine how we assess each of those principles.
Customer Attrition Data
When we look at customer attrition data, we are really focusing on the financial impact knowledge your company has when it comes to the cost of losing your customers. How are you measuring that data to determine whether you understand it, or how you are actively seeking to prevent it?
Strategic Initiative
Strategic initiative is more than just defining a strategy roadmap around how you want to implement a model. Building a strategic definition allows organizations to have company-wide buy-in around committing to the future of AI. Alignment on your strategic purposes builds the foundation of future capabilities.
Data Governance
There is an adage that states, "data is only as good as you make it." Here at Atrium, we take that message very seriously by committing to strong data governance methods to ensure that your organization is committing to centralized data sources, data standardization, and certifying that you have enough data to get the job done.
Existing Application
Determining your intelligent solutions largely depends on the existing application that your organization utilizes today. By evaluating your existing tools, defined business processes, and maturity of your release management methods, Atrium can define what solutions your business is ready for, and build a roadmap for the future.
Functional
How does your organization operate and can we optimize it? Taking a look at your functional processes allows Atrium to determine if the current infrastructure is able to support data overall and whether your business model is supported by your processes.
New Frontier
Our final principle centers around planning for the future. Data science and AI aren't short-term goals. Atrium takes into consideration the needs of your business by focusing on new frontier technologies and creating a product vision that enhances your business and roadmap on how we plan to achieve it.
Now let's focus on a real customer success story and how Atrium's approach toward customer retention was put into action.
Case Study: Optimizing Policy Retention for Goosehead Insurance
Goosehead Insurance's data existed at multiple levels and in multiple Salesforce objects. They needed an effective way to assess model performance and create a long-term data-driven business plan in order to diagnose data quality issues in real time and optimize their strategy around data governance. Goosehead also needed to discover what factors drove an account's propensity to remain active vs. cancel a policy.
Goosehead partnered with Atrium to leverage Salesforce tools (i.e., Tableau CRM, Data Sync/Dataflow) to join data from multiple sources and analyze a single policy-oriented dataset. This eliminated the confusion of data living in several places in Salesforce and created a more streamlined view of accounts. With SAQL-powered dashboards in Tableau CRM, model performance metrics on scored records can be tracked over time.
Atrium's guiding Goosehead to the predictions they needed to identify policyholders that are highly likely to renew vs. those that may need additional attention from agents has increased Goosehead's understanding of factors that separate high-retention policies from low-retention policies.
Learn more about Atrium's services and see how we can support your customer retention strategy.