Every year when Dreamforce comes around most of us know to look out for some very specific blog posts: how to pack for the conference; what sessions, announcements, and product releases to look forward to; and where to get your coffee fix around Moscone in San Francisco. But Dreamforce is virtual this year, meaning it's just you and your mug (pun intended) at home in front of a screen — or several screens, with a headset, a child on an iPad, a barking dog… you get the idea.
For coffee diehards like myself, the pandemic has made for an interesting creative challenge: finding both local and distant roasters and adopting new coffee habits. We all need small joys to look forward to, especially for those who are new to working at home (or new to working at home with your entire family five feet away). So I asked our team to share their coffee routines, setups, and favorite roasters to order from, in the hopes that we can all celebrate this specific part of Dreamforce together, even if we're far apart for now.
Bones Coffee, my latest and greatest coffee obsession, comes from Florida. If you think coffee can't be both fun and great quality, you're wrong. Or you just haven't tried Bones Coffee. My most recent haul consists of a customized five-bag sampler pack and a regular full-size bag of a well-loved flavor, From Dusk Till Donuts. (Longtime favorites include Mustachio and Frankenbones.) Whole bean or ground and they ship widely! Drink it and weep: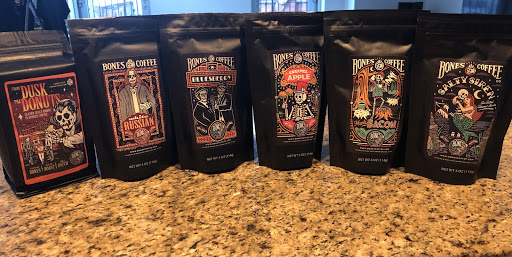 "Stumptown beans and an Aeropress from the pajama-casual dress code establishment known as 'The Kitchen!' Chemex is great. Beautiful design, too."
Listen to Josh — he's also Atrium's resident intelligent experience cocktail mixologist.
"We've ordered beans from Hawaii during the pandemic. My husband loves to make all variations of it. We fell in love with Bad Ass Coffee of Hawaii and Island Vintage Coffee, so we trade off which one we order."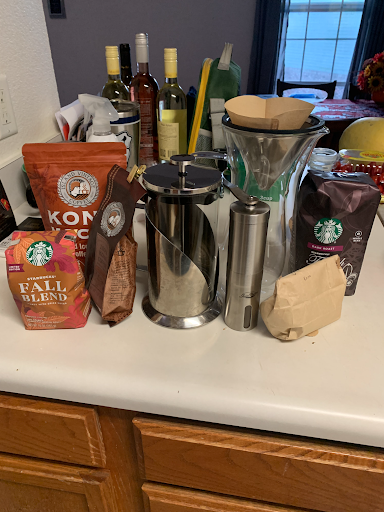 "This is my 'strong coffee' jam.  If it's good enough to encourage Italians to walk around all day in Rome, it's good enough to keep my eyes open in my desk chair."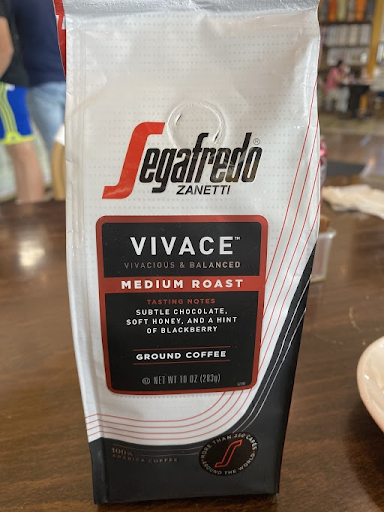 "Also The Coffee House on Cherry Street, Chimera, and DoubleShot coffee houses in Tulsa are my go-to coffee holes when I wish to weigh the Covid/productivity risk scale for a good cappuccino."
"I just subscribed to Trade Coffee based on a recommendation from an Einstein Co-Prime. Loving it so far. The first blend that I received was Atomic Rocketeer. Medium roast… super tasty. My favorite coffee of all time is from The Sleepy Monk — a roaster based out of Cannon Beach, Oregon. Their Monastery Blend is amazing."
"Dunkin' large iced coffee, best consumed in Boston in a Dunkin' across the street from another Dunkin' in the dead of winter."
I co-sign this one.
"My go-to is the Dallmayr Sonderklasse."
I knew that John had a manual wooden grinder — very beautiful, very cool. When asked about it, John says he abandoned it; it was just too much. Who among us hasn't done the same?
"My coffee habit and spending is… embarrassing. I get MistoBox delivery twice a month. And have Zingerman's delivery from Ann Arbor once a month."
Plus, check out Brad's laboratory: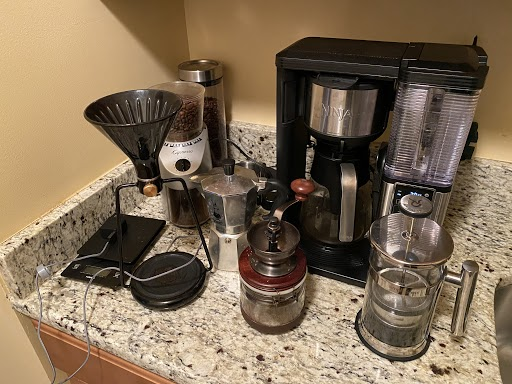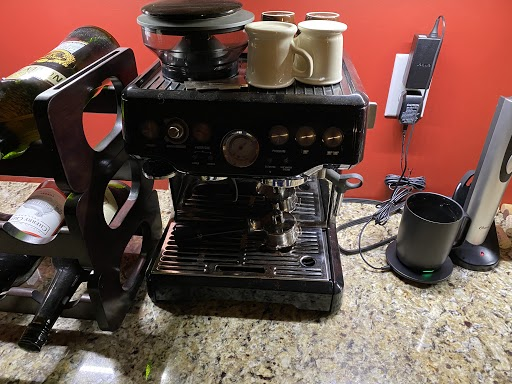 "Try out Hatchet Coffee! It's a microbatch roastery in Boone, North Carolina that I helped found in undergrad."
Bonus points: They have great cold weather apparel.
What's Your Dreamforce Coffee Go-To?
We may have a long winter ahead of us, but that's all the more reason to try something new… or put on a sweatshirt, a mask, and head over to your local favorite. No one's judging here.
Have a recommendation we didn't cover? Something local, wild, or specific and seasonal?
Let us know! Mention us on LinkedIn or Twitter, and be sure to see what else we have in store for virtual Dreamforce this year.