In the past, getting rich customer data flowing between Salesforce and your data lake or data warehouse involved costly middleware and/or custom development. Recently, however, many companies have been consolidating their data lakes and data warehouses into Snowflake's Data Cloud.
This has not gone unnoticed by Salesforce. As such, they've made it easier than ever to get your data flowing between Salesforce and Snowflake using a series of on-platform connectors.
Combining the Power of Salesforce and Snowflake
Salesforce has made significant investments to ensure that, together, their core platform and Tableau CRM has enough power and scalability to meet most customer uses to provide prediction-based AI in the workflow. However, as customer data doubles every 12-18 months, your organization will need separate, elastic compute and storage resources from your systems of interaction to ensure both analysis and operational use isn't bottlenecked by poor performance.
Below we've highlighted the options available to organizations using Salesforce to integrate with Snowflake's Data Cloud to kick-start an intelligent experience.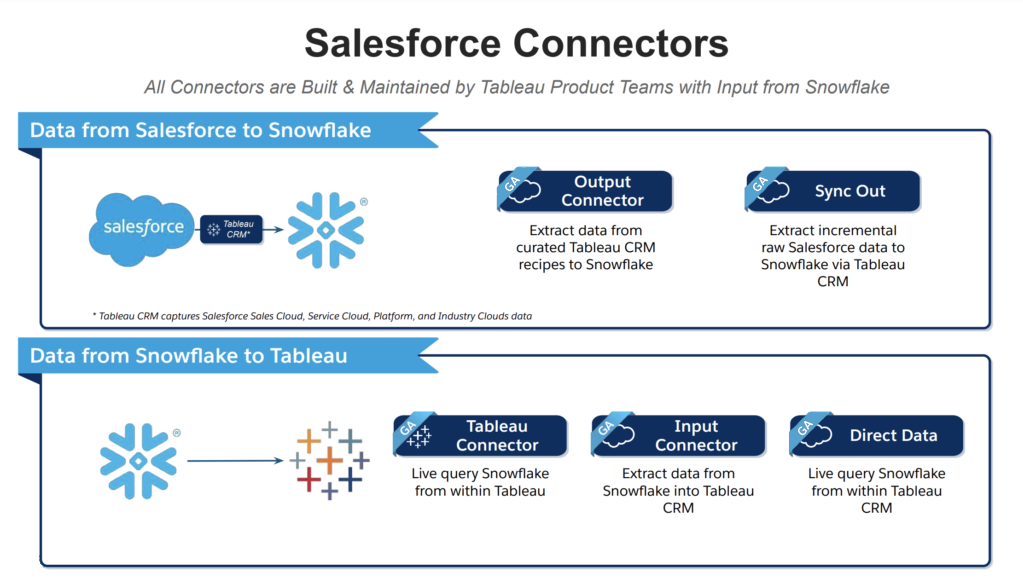 Source: Salesforce
Output to Snowflake from Salesforce
Gabbi Forsythe: Sync Out and Output Connectors
Salesforce is making it even easier to get all of your data into Snowflake with two ways to output your data: the Sync Out Connector and the Output Connector.
Sync Out Connector
Using Sync Out, you can export raw Salesforce data into Snowflake using a scheduled Data Sync. Because the tables are recreated with each new run by Data Sync, there is little management required once this feature is set up.
Output Connector
For exporting transformed or augmented data, the Output Connector is the way to go. This method requires you to make a Data Prep Recipe with an Output node in Tableau CRM. This allows data to be inserted into a Snowflake table without losing any transformations or joins you have already done. With the Snowflake Output Connector and Data Sync, getting data from Salesforce and into Snowflake is a breeze.
Success Story: Sync Out and Output Connectors
We worked with a large consumer mortgage company that needed to get their loan, customer, and lead data into Snowflake for further reporting and analysis. Using the Sync Out connector, our customer was able to create a one-for-one copy of their Salesforce data. They also used the Output connector to create Snowflake tables that matched the datasets they were using in Tableau CRM. This allowed the customer to report on this data in different platforms, using the same dataset.
Input from Snowflake to Salesforce
Exploring your Snowflake data in Tableau is now easier than ever. Snowflake has been added to the ever-growing list of many easy-to-use server connections provided by Tableau. All you need to connect to Snowflake is your Snowflake server name, one of the three credential options, and an initial SQL statement, if required.
POOF! Just like that, you're connected to your Snowflake server and your organization can now leverage both of these extremely powerful tools in tandem to their fullest extent.
Success Story
A large food distribution company requires their sales reps to use Salesforce and input data on products, leads, opportunities, and much more on every account. Unfortunately, the company has no insight into what their aggregated KPIs look like or what metrics they should use as goals for their sales reps for next year.
They were able to export all of the relevant data to Snowflake, take advantage of the many tools that they provide for analysis, and use the Snowflake connector in Tableau to be able to visualize and distribute their key metrics.
Tyler Pollard: Direct Data (Tableau CRM)
The Direct Data for Snowflake integration allows Tableau CRM users to query Snowflake data directly to their dashboards. Gone is the need for intermediary copies when bringing Snowflake data to life in Tableau CRM. Users can maximize the Direct Data connection by querying data from Snowflake and Salesforce within the same dashboard.
Success Story
A large manufacturing company has invoicing data in Snowflake. This data is updated in near real time as their customers adjust orders and pay invoices throughout the day. The sales team uses Salesforce and had no visibility to this invoicing data except a once-daily export.
Using the Direct Data connector for Snowflake, the Tableau CRM developer is able to build a dashboard that pulls the invoicing data in from Snowflake in real time. This allows the sales team to gauge activity on their accounts during the day and make proactive decisions.
Dustin Weaver: Input Connector (Tableau CRM)
Pulling data from Snowflake and into Salesforce is now as easy as setting up a sync using the Snowflake Input connector. Using this connector, you can select which tables/views from Snowflake you wish to sync, the fields within these entities, and your sync schedule. This will allow you to use data from these tables/views within data prep. Once in data prep, you can then join this data as needed to Salesforce and other sources brought in as well.
Success Story
A streaming content provider uses Salesforce to book ad sales. However, the actual invoicing of the sales happened within several external systems. Instead of building complex and fragile integrations to these external systems, the customer brought the data into Snowflake.
Once in Snowflake, the customer was able to build views that were consumed into Tableau CRM via the Input Connector. This architecture offered a simple yet robust way to get their invoicing data from those external systems into Tableau CRM.
Boost the Collective ROI on Salesforce and Snowflake
As you can see, thanks to these new connectors, the barrier-to-entry has been significantly reduced — enabling even more robust, 360-degree views of your customers. If your company has been on the fence about how to move your Salesforce data into Snowflake, or if you've been looking for a boost to your ROI on your Salesforce and Snowflake implementation, these connectors can assist you in achieving your desired results.
Learn how Atrium can help you get the most value out of these connection possibilities by assisting with data signal analysis, architectural review, and implementation of data models and analytics in Tableau or Tableau CRM.
Or go ahead and sign up for a 30-day free trial of Snowflake!