How does your financial firm manage relationships and deliver personalized service? The ways we  maintain customer relationships has changed for the better in large part due to the capabilities brought by CRM. However, building relationships with new and existing customers, increasing revenue, and delivering the right personalized information at the right time takes a specialized approach to process and technology.
Salesforce Financial Services Cloud (FSC) provides real-time access to critical data, perceptibility into unique customer journeys, and meaningful insights at every stage of a customer's lifecycle that enhance the overall customer experience. It has the ability to solve multifaceted challenges, no matter which sector of financial services.
Since it launched years ago, FSC has been proven to be the best-suited Salesforce Cloud product for Salesforce financial services customers. It is a packaged service that extends the functionality of Sales Cloud and Services Cloud combined to meet the needs of wealth management firms, insurance companies, and banks. Bankers and financial advisors can use FSC to gain full insights into their clients and adapt their sales strategy to best serve their clients. Moreover, FSC carries a pre-built CRM Analytics application geared toward consultants and administrators. Businesses can access actionable insights anytime to enhance their decision-making process.
Here's a closer look at five key benefits of implementing FSC.
1. Smart Referral Routing
With an intelligent, AI-powered referral scoring and routing system, FSC helps you better manage and prioritize relationships.
2. 360 Client Relationship Center
It helps financial advisors manage their book of business, clients' households and related individuals all in one place. Administrators can choose from an Individual data model or Personal Account data model to line up the Household-Individual relationships.
Three important object relationships help advisors view their clients' household map: Account-Contact Relationships, Account-Account Relationships and Contact-Contact Relationships.
3. Better Visibility Into Financial Accounts
FSC supports various financial accounts such as Investment Accounts, Bank Accounts, and Insurance Policies. The Financial Account object has pre-defined record types for various financial accounts. Financial Goals help advisors build investment strategies to meet their clients' financial goals. Any member's role in a particular financial account can be defined using the Financial Account.
See sample Investment Account below.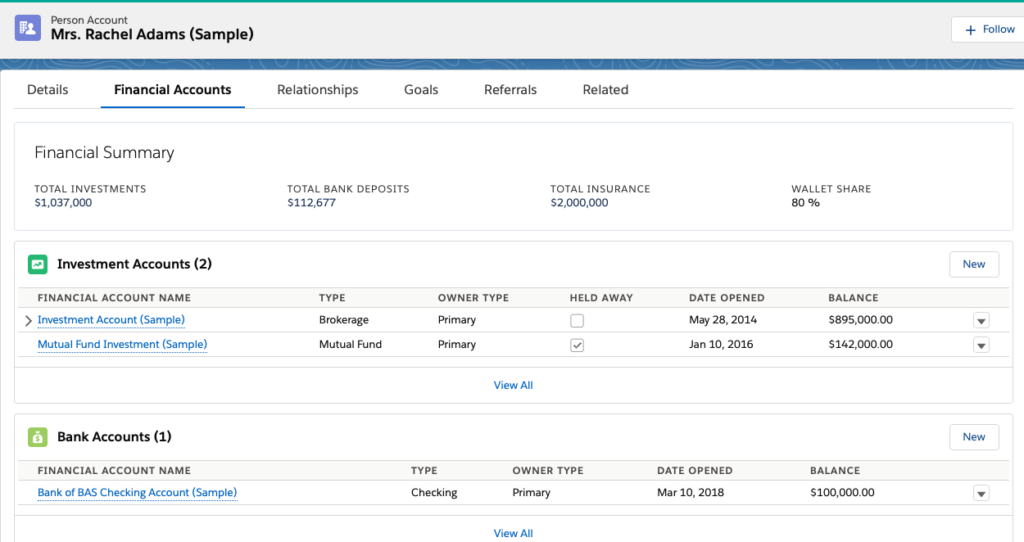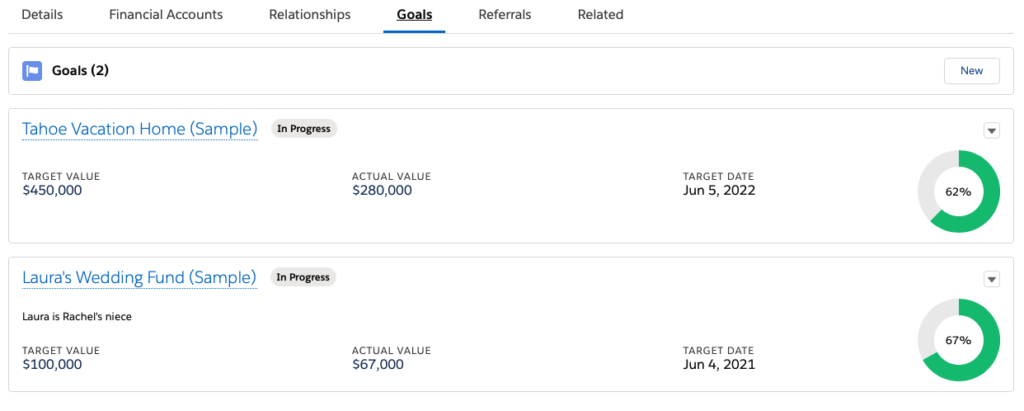 4. Seamless Tracking, Case Alerts, And Approvals
It is necessary to track leads and referrals in the financial services industry. A referral in FSC passes through a few different stages from creation to conversion. When you convert a lead, an account and opportunity are automatically created. You can view referrer information on an individual record to identify the highest referrers.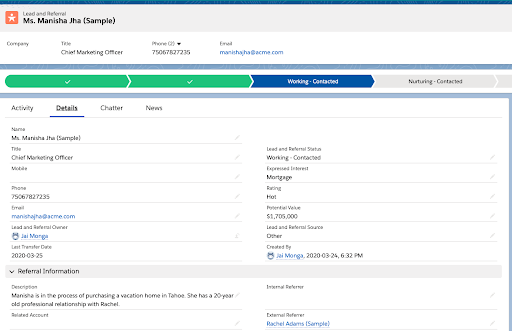 5. AI-Powered Business Intelligence With CRM Analytics
With FSC's analytics reports and dashboards, financial advisors can make informed decisions in a timely manner and better represent their clients. The ability to easily make changes to pre-defined reports and dashboards is a bonus.
Salesforce Financial Services Cloud is a wise investment for financial services firms for its specialization and proven success within the Salesforce customer base. Due to its complexity and potential for further customization to maximize its value, it's important to have the right partner to help you implement and drive ongoing results with FSC. That's where our team of certified Salesforce consultants can help you tap into the potential of FSC for your business.
Learn more about how we can help you get results with Salesforce Financial Services Cloud.