For the first time since 2019, Dreamforce was back in its fullest action, live in San Francisco — as well as streamed to thousands of us virtually via Salesforce+ for free. Dubbed a "family reunion," Salesforce's biggest annual event brought together Trailblazers, customers, partners, and friends. With it, as many surprises as you'd expect from Salesforce on a global stage, surrounded by fans of the brand and the CRM itself. Marc Benioff, Co-CEO of Salesforce, mentioned in the main keynote on Tuesday of the conference that this year's Dreamforce was the most sustainable ever. With an emphasis on eco-conscious speakers, the next wave of Customer 360, and virtual ways of communicating that mirror in-person methods, connection itself seemed to be the theme of the keynote and the event at large.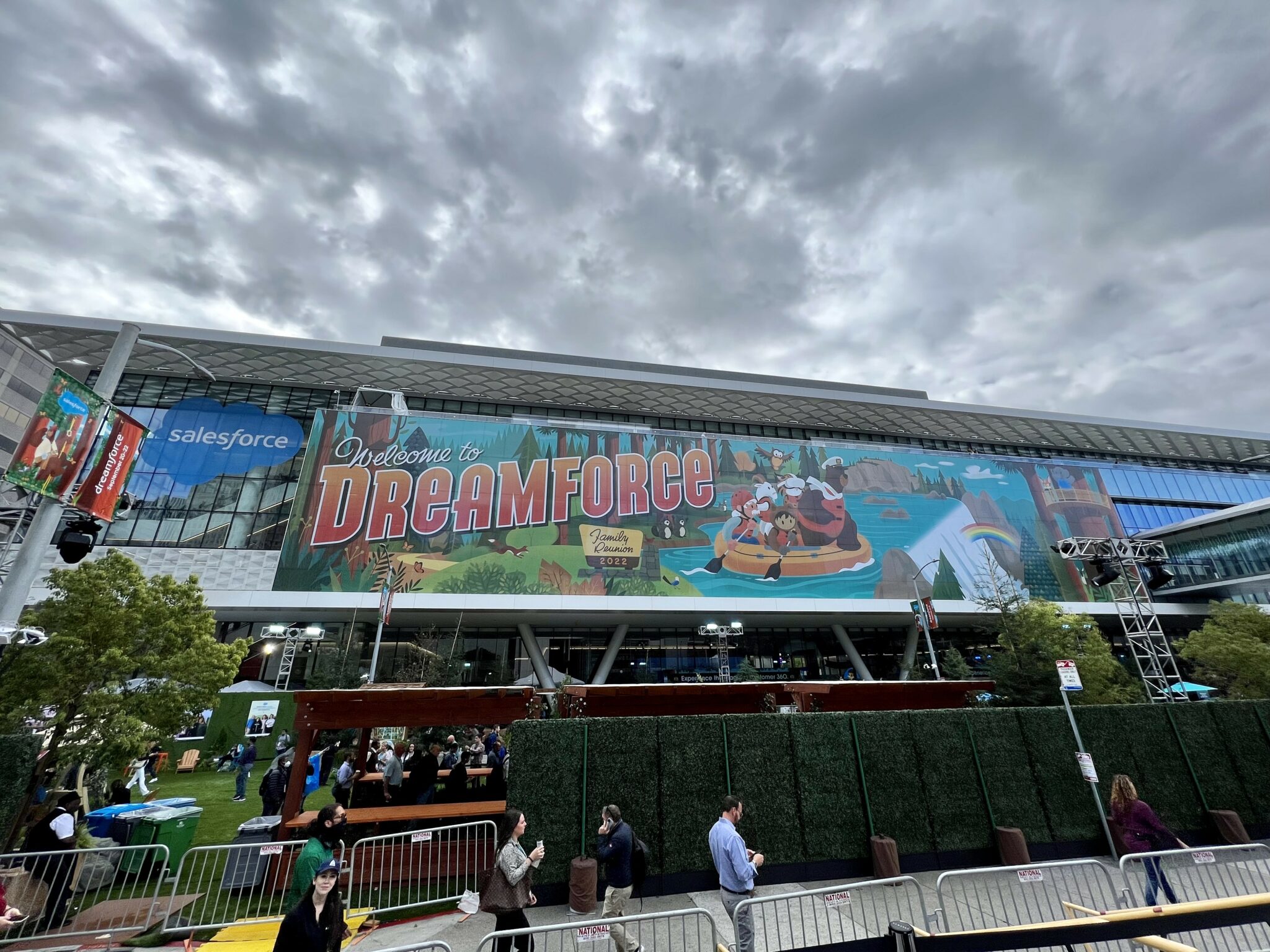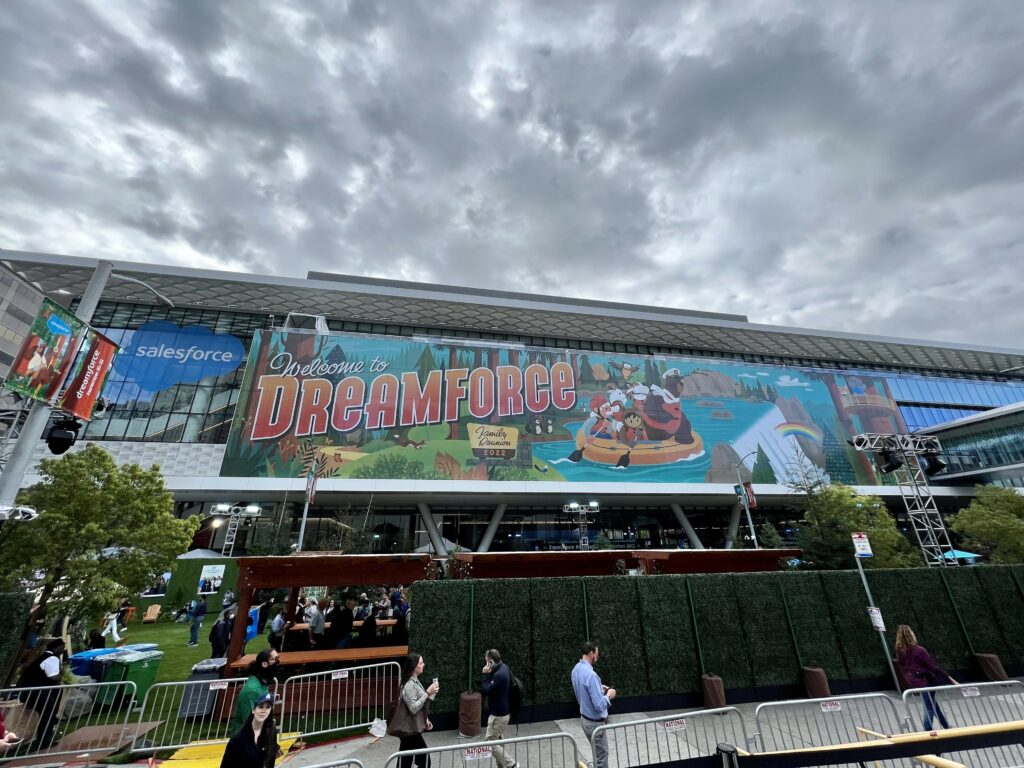 Whether you were there at Moscone, watching select sessions on Salesforce+ at home, or you missed it entirely and want some fast facts to recount at the virtual (or real-life) watercooler, here are some helpful highlights from Dreamforce 2022.
Sustainability, volunteerism, and trailblazing
There were a lot of exciting stats in play during the main keynote on Tuesday, wherein Benioff and Co-CEO Bret Taylor delved into social good achievements not only in the last year, but live at Dreamforce, and as a result of Dreamforce. Benioff spoke about the $25M given to local San Francisco and Oakland public schools, the mission to conserve, restore, and grow one trillion (that's trillion with a T) trees by 2030, and the fact that 50K+ nonprofits and NGOs are currently running for free on Salesforce.
These numbers are easy to gloss over on a slide; they're harder to ignore when you see the throngs of Salesforce users, fans, and organizations represented live at the event, standing up as Benioff said, to be recognized. "We're Trailblazers, this is Dreamforce. It's okay to have a dream," Benioff said. "At Salesforce, our vision has been crystal clear: We want to help you connect with your customers in a whole new way." And with 57M+ badges having been earned on Trailhead, it's clear Salesforce is empowering users everywhere to do exactly that.
Salesforce Data Cloud (formerly Salesforce Genie), Dreamforce 2022's hottest topic
If the average salesperson or marketer had three wishes, one of them would be to better understand their customers at any given time, on any given device, and across the entire lifecycle. With Salesforce Data Cloud, our wish is Salesforce's command (or something like that).
Just before Dreamforce, Salesforce and Snowflake announced the expansion of their partnership, allowing customers to securely share data in real time between platforms without moving or copying data. Now add a little magic and you've got Salesforce Data Cloud, announced at Dreamforce — according to them: "a hyperscale real-time data platform that powers the entire Salesforce Customer 360 platform." Salesforce Data Cloud is genuinely exciting because it delivers on an essential, efficient need for all of us working across platforms, let alone across clouds: it includes built-in connectors that pull in data from everywhere (e.g., mobile, web, APIs, CRM, devices…), including legacy data via MuleSoft and historical data from elsewhere, such as Snowflake's Data Cloud.
Wish granted: a real-time, aggregated customer graph
What Salesforce Data Cloud does with all that data is compelling in its unification. It transforms and harmonizes the data into a real-time customer graph — an aggregate, accurate customer profile record. Everything in the customer graph is visible and actionable everywhere you'd think to need it in Salesforce: across Customer 360, your industry solutions, the AppExchange, customer apps, etc. Because the Atrium team is full of certified Salesforce experts, certified SnowPros (aka Snowflake experts), and other data engineering and platform specialists (e.g., MuleSoft), we're excited about all the possibilities Salesforce Data Cloud provides for our customers.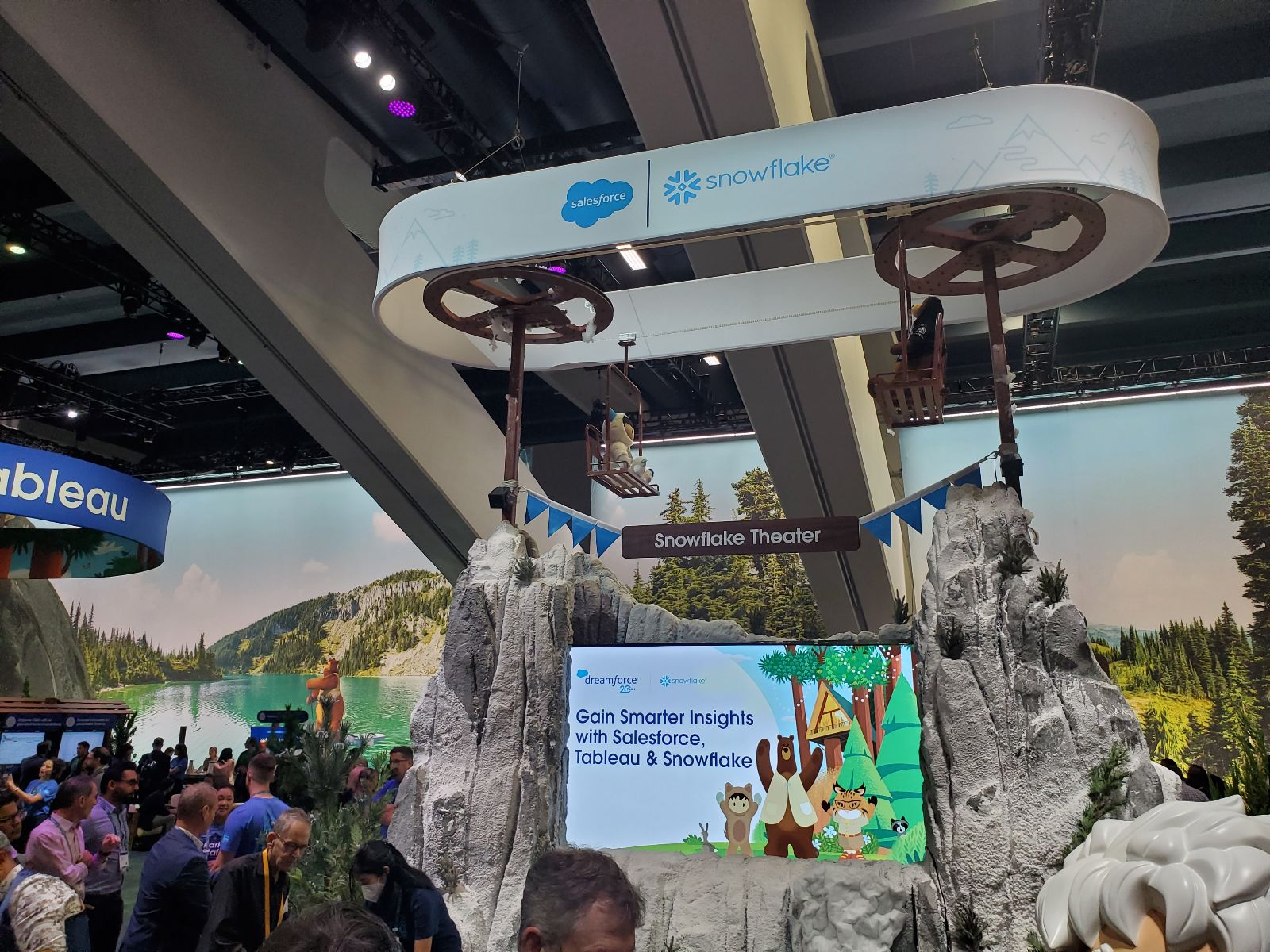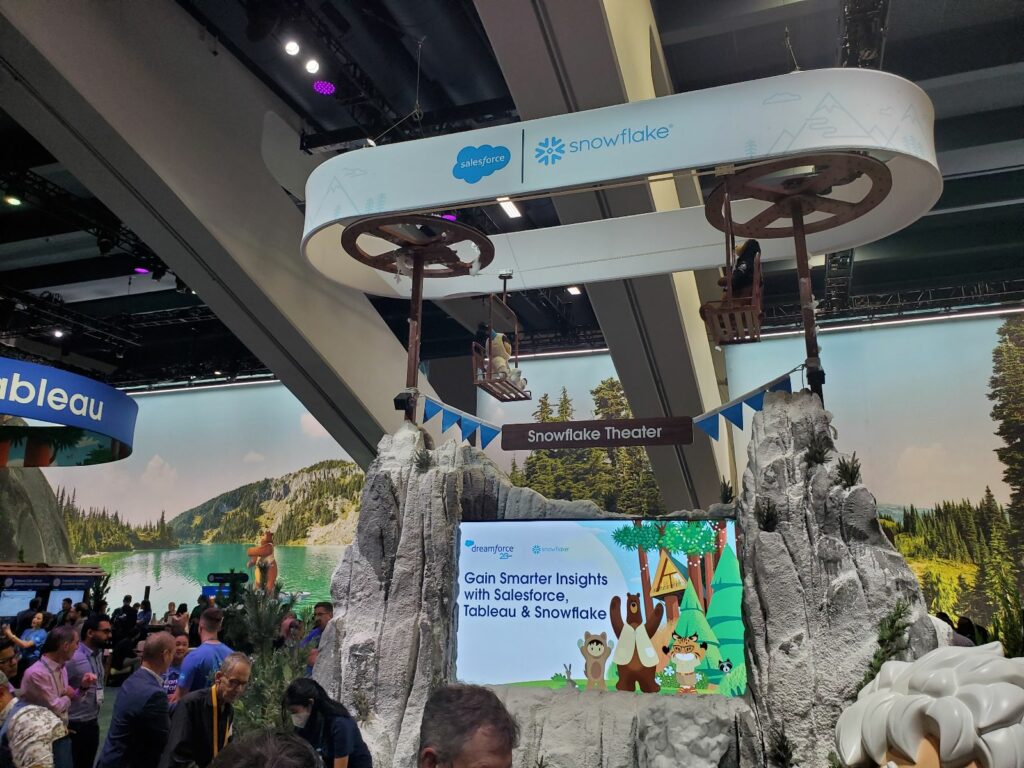 Slack canvas, WhatsApp, and the Quest for IRL Online
Salesforce wants to help you connect with your customers — that's always been the primary goal — and connecting with your teams, particularly across departments, is an essential part of the equation. When Salesforce acquired Slack last year, a new digital HQ was born. At the time, Taylor said, "Our mindset about work has shifted from a place you go, to something you do. Every company needs a digital HQ to connect its employees, customers, and partners, and thrive in a work-from-anywhere world. Organizations around the world build their digital HQs on Salesforce and Slack so they can work better and grow faster."
Slack canvas: a time-saving, collaborative tool a click away
Building that vision out and enabling Salesforce-Slack users to work smarter, not harder, and in a unified system, brings us to Slack canvas. Tamar Yehoshua, Slack's Chief Product Officer, spoke about new enhancements to Huddles and the exciting new addition of Slack canvas… which looked blissfully familiar to some, as she mentioned during the main keynote. "We took Quip and integrated it natively into Slack," Yehoshua explained on stage. Slack canvas is, fortunately, as it sounds; you can attach the "canvas" to a Huddle and everyone can collaborate with a summary, notes, next steps — all cleanly divided and provided to the group right there in Slack. According to Slack, "Paired with the Slack platform, anyone can customize a canvas with time-saving automations that move work forward." Slack canvas will be available to users next year.
WhatsApp takes Salesforce Data Cloud's data insights and runs (or rather, chats) with it
Also announced Tuesday at Dreamforce: Salesforce's partnership with Meta's WhatsApp to make customer communications that much more direct and intuitive. WhatsApp, a popular global messaging platform, integrates into Salesforce's customer response management software. Example: enabling businesses like L'Oréal to send special offers enticing abandoned-cart shoppers through WhatsApp.
Because companies will have this new realm of aggregated, high-quality customer data through Salesforce Data Cloud, they'll be able to target the right shoppers with up-to-the-moment data — informing Click-to-WhatsApp ads on Facebook and Instagram, where customers will experience one-to-one messaging. It gives a whole new meaning to "give the people what they want," especially if what they want would otherwise remain stuck in limbo in an abandoned online cart. Salesforce is pulling together these multitouch tools to make online interactions resemble IRL (aka "in real life") interactions: layered, nonlinear, and specific.
Industry POVs from the experts who live it
At Atrium, we went into this Dreamforce with bold intentions matching those of Salesforce's connection-centric focus. With our own overarching theme of "zero to data 360," we hosted three breakfast panels across banking, revenue intelligence, and data agility, multiple evening events celebrating our customers, partners, and other industry peers, and Dreamforce conference sessions for media industry executives, developers, and admins.
For those who attended our banking breakfast panel featuring Capital One and Salesforce, our revenue intelligence breakfast panel featuring Twilio and Salesforce, or our data agility breakfast panel featuring Tableau and Snowflake (or all three!), our panelists talked through key concepts like data quality, using technologies like CRM Analytics and Salesforce Data Cloud to inform and take targeted actions, and combining IT and the business to be, in familiar Salesforce terms, better together.
It's meaningful when we get together live with customers and partners to discuss pain points, pitfalls, and incredible new ways of using data to drive acquisition and retention. It's also meaningful when we get together to just… be! Our one-of-a-kind Speakeasy Soirée — sponsored by Tableau, Snowflake, and Halosight — boasted a trumpet-freestyling DJ, specialty cocktails, and of course, heavy apps like chicken-and-waffle skewers. Best of all, it had all the curious, cool, fun, swag-collecting, data-loving people who make trekking to a multi-day conference in sneakers and a blazer worth it.
Because Dreamforce may be back, but it's different. We're all different after the last few years. Here's hoping we can keep our eyes on the forest and its one trillion trees.
Learn more about our Salesforce Data Cloud services. And keep scrolling for some action shots from #DF22!