If you're considering a migration to Financial Services Cloud (FSC) then you are either not yet on the Salesforce platform and are looking to get started, you're on a highly customized version of Sales Cloud and are looking to scale/reduce tech debt, or you're on another CRM altogether. In any case, you've realized it's time to take advantage of the latest capabilities that FSC has to offer.
At Atrium, we know there are many benefits of Financial Services Cloud to take advantage of, but we still find some of our clients struggle to make the move. Many financial services firms have put an immeasurable amount of time into customizing their existing CRM or Sales Cloud to meet their needs. Up until now, the argument against migration has been that with all of the customization those firms put into their Sales Cloud environment, they were ahead of the game.
The reality is many of the financial services organizations that were previously ahead are now doing their best to keep up. Maintaining the status quo doesn't give you the competitive edge you need to succeed in a rapidly changing industry — and Salesforce is innovating on FSC faster than any individual customer is able to. Here's a look at why migrating to FSC should be on your list if this seems all too familiar to you.
3 reasons why banks migrate from Sales Cloud to Financial Services Cloud
1. FSC is built with financial services in mind
Salesforce offers many industry-specific cloud platforms, and FSC is one of the most mature. The FSC data model extends beyond core Sales Cloud functionality with capabilities specific to financial services, such as Relationship Builder, Action Plans, Interest Tags, Life and Business Events, etc. All this in addition to a B2C model which helps to optimize direct engagements with clients.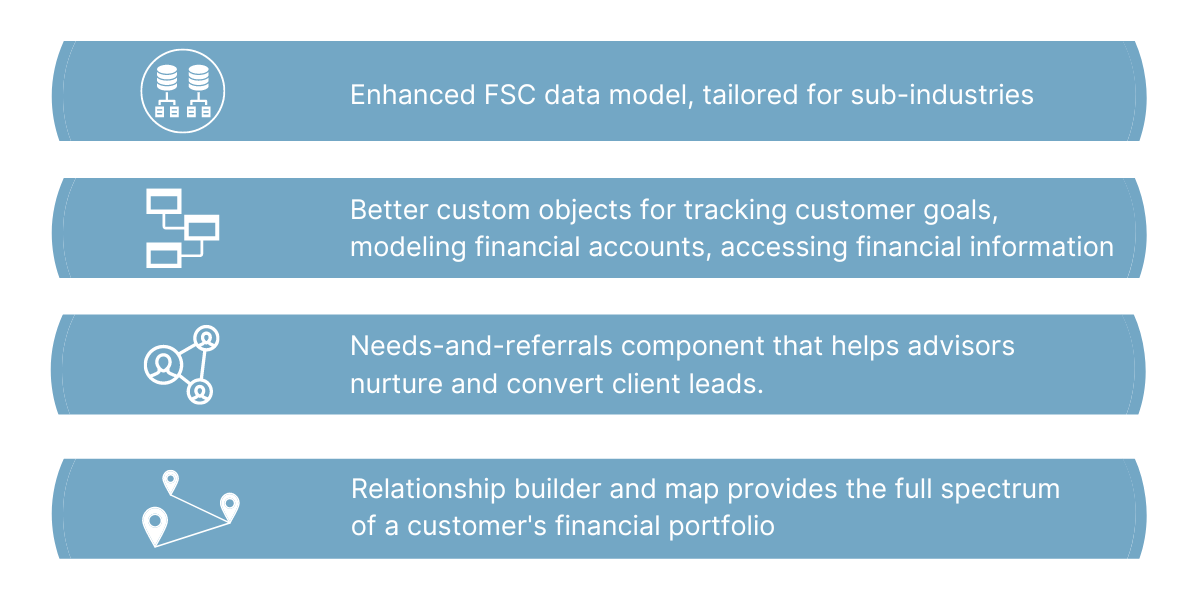 In addition to common FSC capabilities, Salesforce is continuing to invest in subvertical specialization, addressing the needs of wealth and asset management firms, mortgage lenders, and retail banks and commercial banks — each with their own data model to support the unique subvertical business processes.
2. To reduce technical debt and the total cost of ownership
A highly custom environment may meet the needs of your firm now, but it will eventually hinder your ability to scale and automate, and lead to more technical debt requiring continued resource dedication, ultimately increasing the total cost of ownership.
In addition to helping you achieve your growth objectives by deepening customer relationships and increasing wallet share, FSC native features allow you to shift resources away from maintaining and developing custom features and have them focused on innovations to help you stay competitive.
3. To take advantage of new features and business process automation
Salesforce will continue to invest in FSC and any firms that migrate now will be along for the ride. FSC fundamentally provides increased business agility and an unmatched ability to scale to meet demand and capabilities. In addition to the advantage of native new features with future releases, there is increased opportunity to improve overall business processes by leveraging automation to decrease time spent on manual tasks.
Ultimately, our data-driven mindset focuses on automating whatever can be automated and surfacing the insights that you need to make informed and timely business decisions. This goes beyond static reports and dashboards, which essentially report on what has happened. Relying on reporting alone essentially renders Salesforce a rolodex.
A data-driven implementation, not just a technical migration
At Atrium, we focus on a data-driven implementation, to surface insights that bankers and relationship managers can use to prioritize their day and take action on in real time. We ensure that a migration to FSC is not just a technical migration. Given Salesforce's own long-term investment and focus on FSC, we think of this as a strategic move. In our many years consulting on FSC, our approach includes identifying new data-driven capabilities to enable through the migration process, such as new client acquisition with marketing insights and third-party data or client retention models and actioning.
As technology investment continues to influence business strategy, IT has evolved to focus on maximizing value delivery instead of just service delivery. The migration from Sales Cloud to FSC is a perfect opportunity for long-term value creation.
Learn more about Salesforce Financial Services Cloud and how we can support you through a migration.