Our team and our business is another year older and wiser. At Atrium, 2022 has been a fast-paced yet reflective year defined by in-person ecosystem events and volunteerism, major industry announcements, significant growth for ourselves and our customers, exciting updates from partners, and so much more. When a year comes to a close, so often we look ahead to formulate resolutions: be more x, do more y. But as 2022 wraps up, I'm proud to look back and learn from all that we've achieved together, using this year's progress as a springboard to propel us meaningfully into 2023.
Read on for some of our key highlights and news from the last year!
GivingTuesday, Cultivate, and the lasting effects of social good
'Tis the season to give. But fortunately, it's always the season to give when it's an organization-wide initiative. In the last year, we've worked with many incredible organizations through our Cultivate program, such as Habitat for Humanity International (HFHI), Housing Development Alliance (HDA), and others.
On GivingTuesday, HDA took to social media to share their experience working with our team: "Sending out some love and gratitude today to Atrium! HDA was struggling to track flood survivors that were contacting us after the July floods. We were using Salesforce to track our regular repair clients, but flood work is different and the handling of the data required a different approach. HDA staff did not have the time (or expertise) to solve the problem. That's why we partnered with Atrium. Their team was able to expand our Salesforce capacity such that we can seamlessly capture, track, and act on requests for flood repairs, helping us in turn better support our community in a time of great need."
Pledge 1% also shared the details of our work with HFHI on GivingTuesday: "As part of Cultivate, Atrium's social good program exclusively dedicated to donating time and expertise to nonprofit customers and charitable organizations, the Atrium team worked with HFHI to define their use cases, build out a project plan, and ultimately make better use of their existing Salesforce investment."
Similarly, Atrium worked with Civic Influencers, a nonprofit on a mission to increase youth votership by motivating and empowering young people. Our team built a Tableau dashboard with a compelling narrative to showcase the potential impact of American youths' interest in and access to votership, highlighting the urgency and merit of civic engagement to donors and students alike. (Get more details and see the dashboard in action.)
Salesforce ecosystem events in action! Dreamforce, Snowflake Summit, Tableau Conference… 
As a Salesforce partner, we wouldn't dream of missing Dreamforce, Snowflake Summit, or Tableau Conference. We were at each event with bells on — and in some cases, a booth, a demo, a party, an afterparty… and a lot of incredible conversations with customers, partners, and industry leaders.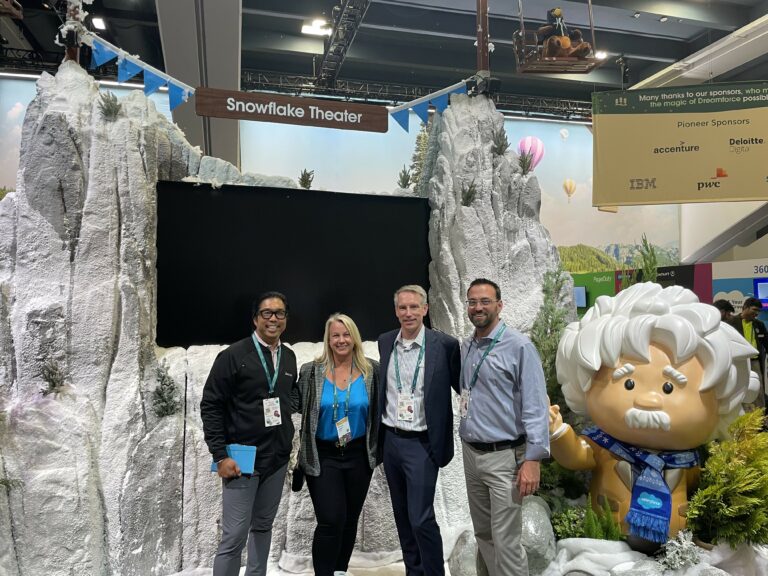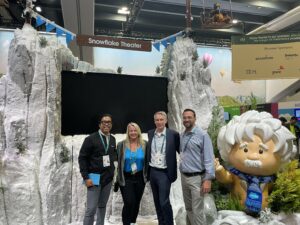 In case you missed one or more, we have event recaps with all the insider info you need to get ahead and stay ahead before the new year:
Salesforce Genie (more on that in a moment…), Slack Canvas, and many more announcements and updates to get excited about — plus, insight into our events and speaking sessions focused on banking, revenue intelligence, ad sales, data agility, and more.

Catch up on the specifics of Snowflake Summit from a certified SnowPro and dig into our "Oh the Places You'll Go" Tableau dashboard, which instantly collected lead information at the event and visualized it in Tableau (and wowed booth visitors in the process).
Get the details from our VP of Analytics on all things Tableau Cloud, CRM Analytics innovation, Iron Viz, and much more. And if you're thinking about making the move, we can help you with your Tableau Cloud migration.
Last, but never least: Salesforce World Tour New York
Salesforce's #WorldTour stop in NYC was one to remember, whether you were most interested in revelations around Data Cloud, Genie, or any number of updates in store for 2023. We also enjoyed partnering with Tableau for a one-of-a-kind Cold Moon party, celebrating year-end success and new beginnings. Thanks to all who joined us to seize the data (aka unwind under the stars with a DJ, photo booth, cocktails, and conversation)!
The magic of Salesforce Genie
Customer magic? Isn't that what we're always selling with Salesforce? Well, with Genie, magic gets a little more real, as in: the first really real-time CRM. Genie brings the power of automation, analytics, AI, data, and integration together to create a single view of the customer across any cloud. This is a big step forward for Salesforce, Salesforce consultants like ours, and Salesforce customers.
If you're in need of some easy-to-digest information around Genie, Salesforce to Snowflake data sharing, or something more specific, here's your Genie cheat sheet.
For further Genie reading:
In the year ahead, Genie will be a must-have not-so-secret weapon for businesses already on Salesforce or considering making the switch. If you're wondering how to make the most of Genie, zero-copy real-time data sharing between Snowflake and Salesforce, or something else, we can talk you through next steps.
Hot topics to write home about: data agility, revenue intelligence, and CRM Analytics
What would a year be without new content to keep the wheels turning? Our team went into deep detail on a number of subjects with our partners at Salesforce, Tableau, and Snowflake, but three of our latest and greatest pieces of long-form content centered on:
The rise of business change enablement as a strategic necessity for adaptability and long-term success
It's never been enough to simply budget for a solution, plug it in, and expect to start closing deals and streamlining operations in record time. While that would be nice, more organizations are realizing (for a variety of factors, a changing economy and operational pandemic recovery mode being just a couple) the value of change management, and particularly business change enablement, at every level of the business.
When you're investing heavily into solutions for your business, meant to ease internal operations and better serve customers — not to mention increase renewals, target new audiences, and futureproof should market conditions shift — you want to ensure everyone on your team and at your vendor is on the same page. Otherwise, that hard-won budget and time spent preparing for a new solution can easily turn into a costly mistake (be it a botched implementation due to poor communication or shelfware due to a lack of internal experts and/or managed services).
Award-winning culture and the consulting stars of tomorrow (today)
Inc. Best Workplaces 2022!
For the second year in a row, we were recognized as one of Inc. Magazine's Best Workplaces! We can't do what we do without teammates who support one another professionally and personally, and a big part of that is creating a culture of feedback. Competitive perks and benefits go a long way… but understanding what employees want and delivering on it does too.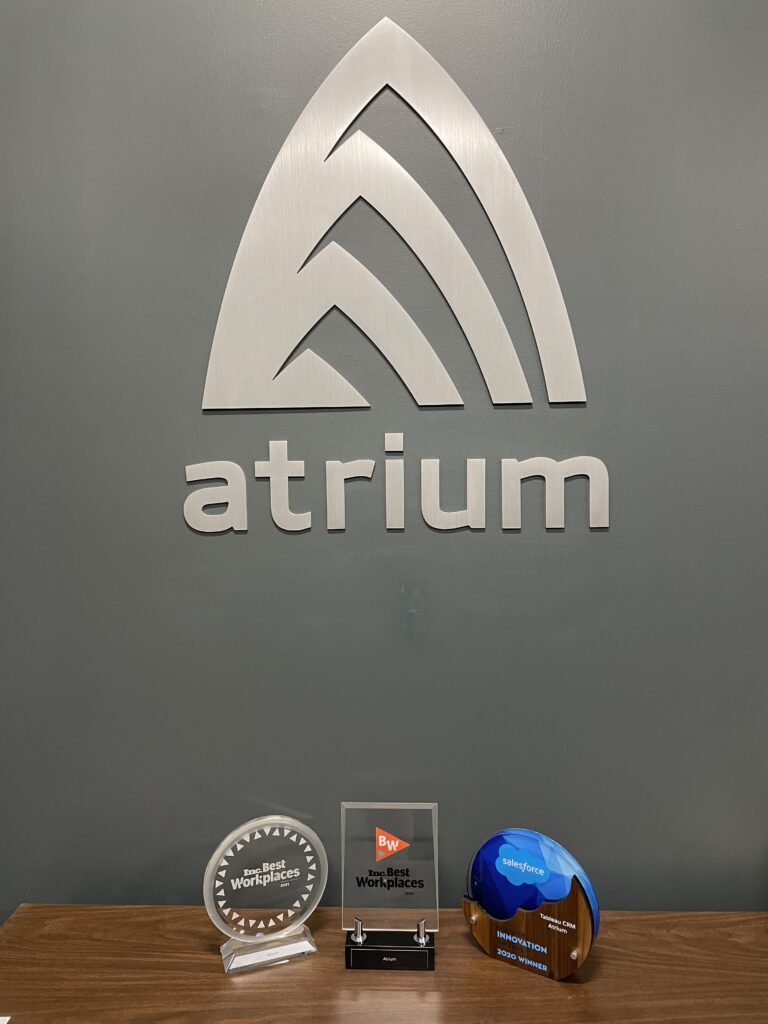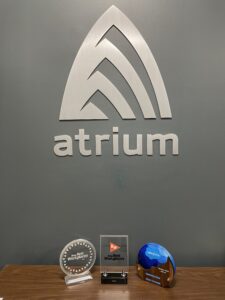 Atrium's Luminate Program
On top of our Inc. win as a company, we've also continued to grow our Luminate program in the U.S. and in India. Our Luminate cohorts receive hands-on training with real customers and the added benefit of learning directly from consultants who've seen it all. Teammates who go through the Luminate program begin their careers not only with proper technical training and mentorship, but also having shared the experience with peers.
There's so much more to be said about 2022… In the meantime, learn more about the services we provide across data strategy, implementation, managed services, and more.